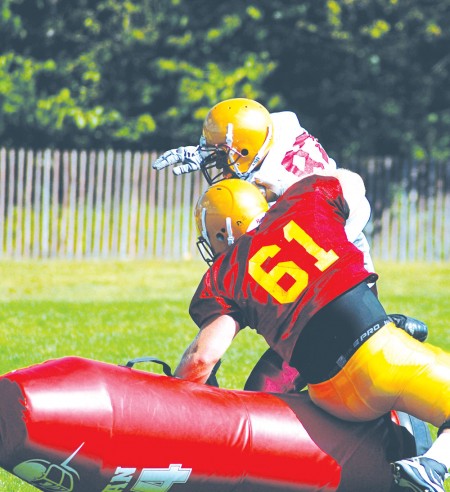 With last season's dismal 1-10 campaign in the past, the Bulldog football team comes into the 2010 season with renewed hope and a chip on its shoulder.
Coming into this season ranked 11th out of 14 teams in the 2010 GLIAC Preseason Coaches Poll, you would not expect a one-win team to come into a new season with such optimism. Head coach Jeff Pierce believes that the sting of last year has motivated his team to come out and prove the critics wrong.
"When you get knocked on your butt like we did last year, staying down is not an option," said Pierce. "We had some guys in the program last year that may have not been committed to this team, so we've trimmed that dead weight and I really feel like the guys we have here are ready to get back on track and turn this around."
Though the memory of last season serves as a motivating factor for the team, much of the optimism for this season comes from the addition of new offensive coordinator Chris Boden. His wide-open scheme has been compared to the system that former Texas Tech coach Mike Leech made famous.
"I think it's a really good offense that gets everybody involved and I think that we'll be putting up some big plays," said senior receiver Chris Wilson. "We're going to be pretty wide open this year and I think we've been meshing during this offseason."
With Wilson leading a receiving core that also returns junior receivers Aaron Olman and Mike Ryan, the Bulldogs will look to junior quarterback Tom Schneider to get the ball to his playmakers and to run coach Boden's new offense.
"The system is pretty user-friendly and it seems like Tom is really comfortable in the system right now," said Pierce. "He's going into his third year and I think that just having that experience is helping him pick up the system and he's really starting to make progress."
While much of the offseason attention has been on the offensive changes, the defense hopes to be an improved unit that looks to take advantage of having some key players returning while also providing leadership for the team.
"The most leadership is coming from the defense right now and I think that will help out the entire team," said Wilson.
Among the returning leaders for the defense, senior linebacker Matt Ryan will look to build off of his breakthrough season last year, as he registered a team-leading 124 tackles along with 2.5 sacks and two fumble recoveries. Joining Ryan will be senior safety Chad Wilson, who missed the 2009 season because of an injury, and senior defensive tackle Jacob Moreno, who tallied 49 tackles and 6.5 tackles for loss in 2009 on his way to being named an ALL-GLIAC honorable mention honoree.
With some key leaders returning to the defense, Pierce feels that the defense will help lead the turnaround for the team.
"We've got a lot of team speed and we've got some good veterans here that have really stepped up and are leading not only our defense, but the entire team," said Pierce.
Although there is a sense of optimism surrounding the 2010 Bulldog football team, the team will get tested early in the season as it opens the season on the road at Hillsdale for a non-conference battle on Sept. 3. Ferris will then face off against Saginaw Valley State in the home opener on Sept. 11. Hillsdale and Saginaw Valley State enter the 2010 season tied for second in the GLIAC Preseason Coaches Poll.
With a potentially challenging start to the season, the team knows that a turnaround will have to come one game at a time.
"It's critical that we get our bugs worked out early, but we can only take it one game at a time," said Pierce. "I think that if we play to our potential out of the blocks against Hillsdale, we'll be able to get our confidence going off the bat. But you never know until you go toe-to-toe with someone else." n