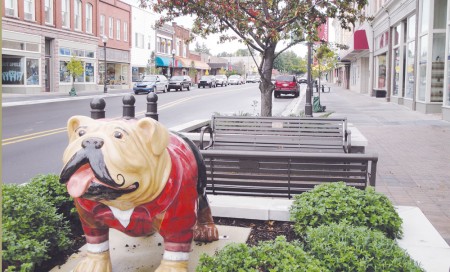 The city of Big Rapids celebrated its grand re-opening Sept. 3 with activities in historic downtown.
Walking through a large inflatable symbol of Ferris State University's bulldog mascot, community members were welcomed to enjoy food and shopping on Michigan Ave.
The celebration began at 8 a.m. with a display of locally grown food and a community yard sale located in the parking lot just south of City Hall. Big Rapid's Farmers Market was among the many businesses showcasing food, games and activities.
Temporarily closing historic Michigan Ave., stores such as JC Penney held sidewalk sales among food vendors offering ciders and ice creams.
The re-opening celebration commemorated the completion of the more than $1 million downtown streetscape project, which broke ground May 3. Approximately $150,000 was provided by the City of Big Rapids Authority to construct the project. Merchants in the Downtown Business Association (DBA) began the planning process for the renovations in 2006.
Funded by the Michigan State Housing Development Authority (MSHDA) and Michigan Department of Transportation (MDOT), downtown's street-scape project included renovations to Pocket Park, various tree planting and new LED streetlight replacements. This also included several new seating areas and a weatherproof historical plaque.
Due to continuous rainy weather, events such as the ceremonial ribbon-cutting were canceled for the day. However, the ribbon-cutting ceremony has been rescheduled for a yet-to-be determined date.
Still, community members came out in large numbers Friday to support the activities being held by local businesses. Among the few hundred spectators was Ferris senior Krystal LeClaire.
LeClaire said events such as downtown's re-opening provide students with a chance to become actively involved in the community.
"These events keep Big Rapids eventful and interesting," said LeClaire.
Performing in the center of Michigan Ave., musical artist Chris Jane said he sees the importance of reintroducing the community to its downtown storeowners. Being Jane's first time performing in the middle of Michigan Ave., he recognizes what downtown Big Rapids has to offer.
"There's plenty of shopping, great live music all weekend at Schuberg's and Blue Cow Café has great food," said Jane. "It's important for the community to be able to get together and celebrate the positive changes that are being made." n