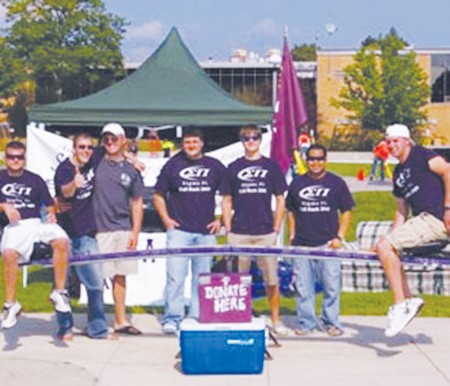 Ferris' Sigma Pi fraternity will be hosting its Teeter-Totter-A-Thon in the main campus quad from Sept. 7 through Sept. 9.
From 12 p.m. to 12 a.m., members of Sigma Pi fraternity will teeter-totter for a consecutive 48 hours raising donations for the American Cancer Society.
Sigma Pi's public relations chairman Peter Kolassa said he sees the issue of cancer affecting the lives of many students on campus.
"We chose the American Cancer Society because most people, in some way, have been touched by cancer," said Kolassa.
Recently losing one of their own members to Leukemia, Kolassa said the event bares a deep importance to the fraternity.
"We continue to use the Teeter-Totter-A-Thon not just because it's a successful fundraiser, but because one of our own brothers has passed away from cancer," said Kolassa. "So we now dedicate it to him."
Last year, Sigma Pi reportedly raised approximated $2,000 for the American Cancer Society. The fraternity also received contributions from various downtown businesses including guitar picks, pens and business cards.
This year, AT&T, as well as Mr. Karl's Hairdressing, has donated prizes that will be raffled to students participating in the fund raiser. Quinn's Music is also participating in the event for the second consecutive year by providing music in the main campus quad.
Sigma Pi President Zack Kosmerick said that the event will showcase the activities Ferris' fraternities participate in that give back to the community.
"Our expectations for this year are to surpass the amount that we made last year," said Kosmerick.
Kolassa said he agrees that hosting events such as the Teeter-Totter-A-Thon provides a positive presence for the Greek community on campus.
"I feel that hosting events like this is important because it gives an opportunity for other students to benefit from what we have to offer, whether it's entertainment or information," said Kolassa. "I feel this year's Teeter-Totter-A-Thon will be our biggest yet."
As well as their annual Teeter-Totter-A-Thon, the fraternity contributes efforts in helping students move into the dorms with Bulldogs in Action. Sigma Pi also assists in book donations through its alcohol awareness program, the Sam Spady fund.
Sigma Pi's 9th annual Teeter-Totter-A-Thon is a free event to the community. For more information, contact Sigma Pi public relations chairman Peter Kolassa at kolassp@nullferris.edu or call 269-420-0166. n