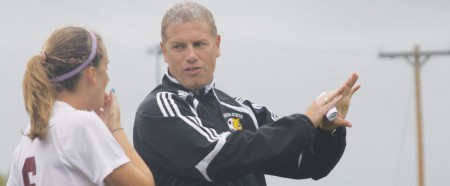 Ferris State University has named Matt Kellogg the fourth head coach of the women's soccer team in the programs' 11-year history.
Kellogg comes from Morehead State University (Kent.), where he was in his second season with the team as an assistant coach. Kellogg replaces Neathan Gibson, who resigned in April. Kellogg made his presence known early at Morehead State by training the goalkeepers, who combined for five shutouts, a 1.42 goals-against average and a .713 save percentage in 19 matches under Kellogg's guidance. Morehead grabbed the first ever Ohio Valley Conference regular-season championship in program history with a 5-0-3 conference record during the 2009 season.
Before Morehead, Kellogg was an assistant coach at the University of Kentucky, where his main operation was serving as Wildcats' recruiting coordinator while also training the goalies. After Kentucky head coach Warren Lipka left for Morehead State, Kellogg became the Wildcats interim head coach. As the season ended, Kellogg followed Lipka to Morehead.
"Being an interim head coach at Kentucky confirmed my desire to become a head coach," said Kellogg. "It gave me some insight to what it takes to be a head coach and what it takes to do it well."
Kellogg is no stranger to Michigan, as he is a native of East Lansing and a graduate of Plainwell High School. He also was an assistant coach for three seasons at Western Michigan University and an assistant at Kalamazoo College for one season, before becoming head coach of the program for a year.
Kellogg played soccer for Butler University (Ind.), where he was a two-year letter-winner and also ran a season of track. He earned a bachelor's degree in sports administration and then went to Western Michigan to earn his master's degree in sports administration.
Kellogg has been at Ferris State for a little over three weeks now and says he really likes that everyone has been very friendly and helpful and has made the move here very easy. He also says he is excited to be working with this group of players.
"I have really enjoyed working with the players," says Kellogg. "They are very eager to learn and improve as individuals and as a team."
Kellogg says he has been waiting for the opportunity to become a head coach at the university level and Ferris State has given him that chance. n