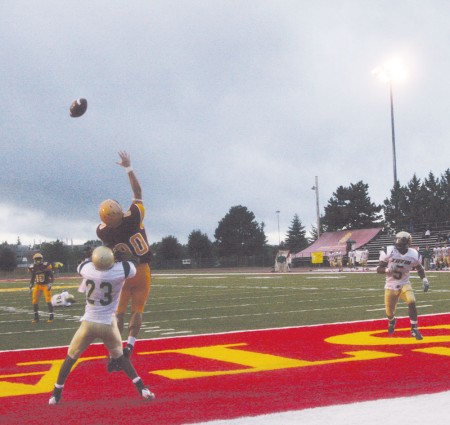 The Bulldog football team could not overcome a rough first half in the first contest of the 2010 season, as the team fell to nationally 16th-ranked Hillsdale 35-17.
Coming into the first game of the season with renewed hope after last year's 1-10 campaign, the Bulldogs fell behind early as Hillsdale raced out to a 21-3 advantage at halftime and eventually cruised to victory.
"When opportunities come, you've got to take advantage of them," said head coach Jeff Pierce. "We had opportunities to make the game a shootout, but a couple of those drives we didn't capitalize on and unfortunately we ran out of time."
Hillsdale took control of the game in the first quarter as running back Joe Glendening scampered for a five-yard touchdown run to cap off a 60-yard drive just four minutes into the contest.
The Bulldogs battled back early in the second quarter by forcing a Charger fumble, but an interception thrown by Ferris on the next drive killed a chance to tie the game as Hillsdale marched 80 yards to take a 14-0 lead on another Glendening score.
Hillsdale continued its offense assault with a touchdown grab by Andre Holmes with five minutes left in the first half to push the lead to 21-0. Ferris managed to drive 73 yards to setup an 18-yard field goal by junior Shawn Snoor as the first half came to a close, leaving the Bulldogs an 18 point deficit at the half.
Although the game was still in reach for the Bulldogs at the half, Hillsdale made sure no comeback effort would take place by tacking on 14 points in the third quarter to effectively seal the victory.
Ferris added two scores in the fourth quarter to close the gap, as sophomore Dwayne Williams crossed the pylon with a four-yard touchdown run with 12:20 left to play while junior quarterback Tom Schnieder hit junior receiver with a 13-yard touchdown pass in the final minute of the game.
Although the offense struggled to keep drives alive, as the team went 3-13 on third down attempts, the defense also experienced some troubles as well by allowing 453 yards of total offense.
But despite a rough first showing, Pierce is confident that his team will fight on and get things worked out in the early part of the season.
"It hurt tonight, but the guys stayed with it and we didn't fall back into, 'OK, where are we going from here,'" said Pierce. "We walked off the football field and the guys were talking about how we could have been in the game if we made some plays, and that's the mindset we have to have as a whole football team."
The Bulldogs will host Saginaw Valley State on Sept. 11 in the 2010 home opener as the team will look to rebound in its first GLIAC matchup of the season. n