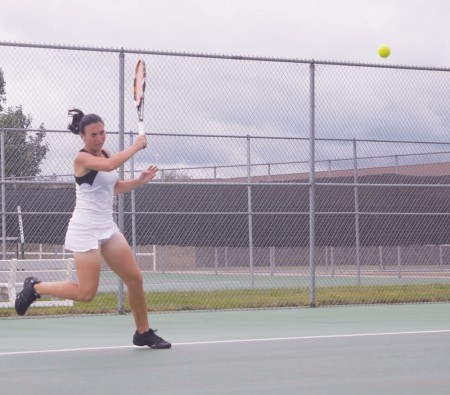 The Bulldogs opened their season at home on Friday with a 9-0 victory over Saginaw Valley State University.
With nine of the top 10 players returning from last year, the team showed they were indeed contenders for a top spot in the GLIAC.
The match started off with the doubles competition as the Bulldogs dominated by winning all three matches. At the top doubles spot, seniors Amy Ingle and Tiffany Rheynard defeated their SVSU competitors, Andrea Calhoun and Stephanie Bagnell, 8-2.
Rheynard had many powerful returns, as Ingle had great serves and covered on many of the serves. The two have been playing together for three seasons.
"I felt good and confident after; it's easy to go into singles knowing you only have to win half to win the match," Rheynard said.
Alina Stanila and Melissa Flowers also won their match with a score 8-0, with teammates Natalie Diorio and Tabitha Simpson taking down their opponents 8-0.
In the singles competition, the Bulldogs once again triumphed over SVSU by taking all six matches. Transfer student Alina Stanila moved into the top singles spot, defeating her opponent 6-3 and 7-6.
Bulldog Captain Amy Ingle played the first match of her career at the number two spot and came out with an impressive win, beating her opponent in straight sets, 6-0, 6-0.
"I feel that our team performed very well in our opening match vs. SVSU," said head coach Alex Palladino.  
"The conditions were tough, with cold temps, and lots of wind, but we came out of the blocks firing with quick wins at each doubles spot.  We have a seasoned team this year, and I am pleased with our intensity level so far," said Palladino.
The team hopes to continue their winning ways on the road this week as it will face off against Findlay on Friday before traveling to Tiffin on Saturday. The team will wrap up the weekend road trip with a contest against Wayne State on Sunday. n