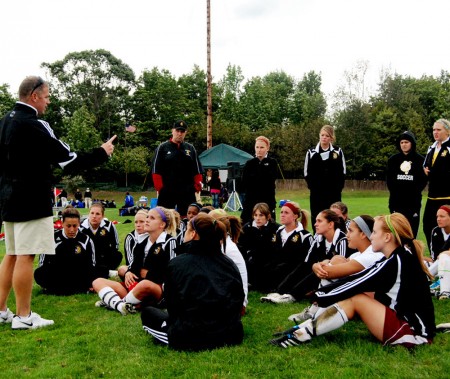 The Bulldog women's soccer team was thrown right back into mix with a GLIAC match on Thursday against Grand Valley State University.
The Bulldogs were outshot 26-12 and could not manage to score on the top-ranked GVSU team, losing 3-0.
"We started out of the gates playing strong and with pace, and created some good opportunities for ourselves," said graduate assistant coach Kristina Nasturzio. "Our second half was lacking the effort put forth in the first, and Grand Valley was able to capitalize on that."
Playing their second GLIAC game Friday against Saginaw Valley State University, the Bulldogs once again came out on the wrong end, 14-7.
Freshman goalkeeper Rachel McCollum made four great saves during the game, but the one let in the net was one too many. Saginaw Valley's one goal managed to be the clincher, as it defeated the Bulldogs 1-0.
"Even though we didn't come out with a win, our team has really grown since last year. We keep fighting till the last minute and don't give up," senior Megan Stec said. "The loses have been frustrating, but our time will come. We have a great team and just have been unlucky."
The team tried for their first win Sunday against Northwood at the NU Soccer Complex. Taking the other games into account, the Bulldogs went into the game seeking their first win of the season. They did exactly what they set out to do, beating Northwood 3-0.
The Bulldogs will try to build off of the momentum from the victory against Northwood this week on the road, playing at Northern Michigan on Friday and Michigan Tech on Sunday. n