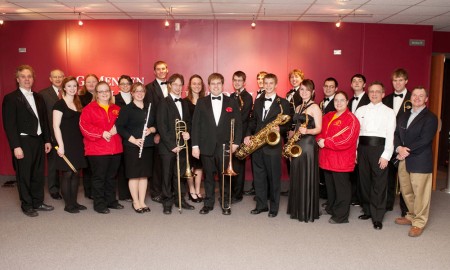 Kappa Kappa Psi, a fraternity in its adolescent stages, is working to give music lovers an organization that allows members to share their passion.
Drew Heath, FSU senior and second year pharmacy student, is the current president of Kappa Kappa Psi.
"Last year, when I was a junior, a senior and I joked around with the idea of a music fraternity and it then became serious. The two of us started from scratch," said Heath. "It started last year; we finished the paperwork, started having meetings, and became a colony at the end of last semester."
Being a colony means the fraternity is applying to become a chapter, explained Heath. The group is still going through different requirements and currently has about 20 members.
"I'm currently involved in Pep Band, Jazz Band, the West Central Concert Band and Symphony Band; I just love music, which is exactly why I started the fraternity," said Heath. "People who are interested in joining must be a member of one of the bands here [at Ferris], must love music, and must have a desire to do more."
Kappa Kappa Psi is having its first service project on Sept. 17, which will be an instrumental petting zoo at the West Campus Community Center and will be geared toward elementary school students.
"We want to get young kids to come so we can show them different instruments and play a couple of minutes for them and get them interested in music," said Heath.
Dr. Scott Cohen, FSU West Central Concert Band and Symphony Band director, and Dr. Dale Skornia, FSU Athletic Pep Band director, are co-advisors for and supporters of the Kappa Kappa Psi fraternity. They, along with President Eisler, are honorary Kappa Kappa Psi members.
"This [fraternity] is old, but it's new; we had the chapter for many years, but it went away in the early '90s, I believe," said Cohen. "The university went through a period of decline, where they lost a lot of students and there were a lot of budget restrictions and the number of students in the music program decreased a lot. It got to a point where there wasn't enough students to keep it going."
Cohen explained that in the early 2000's, things started building back up again and the music program has been on a steady incline for approximately the last decade.
"Now we're working to bring it back," said Cohen. "We have some students that grabbed the bull by the horn and decided they wanted to get this going again."
"Matt Ondrias, who was one of the founders but has since graduated last year and passed the torch to Drew [Heath], decided to pursue creating a music fraternity here at Ferris," said Skornia.
"No one at Ferris is a music major, everyone is doing music for fun because they love music and this [fraternity] is for them," said Cohen. "I've been very impressed with the leadership and the creativity of their ideas; they are a great bunch of students who are setting the stage in the history of our music program."
Greg Beers, one of the founding members of Kappa Kappa Psi, said he joined due to his passion for music.
Beers said, "I joined Kappa Kappa Psi because I loved playing in band all through high school and even coming here to Ferris. I just love playing music and think this is a great organization to be a part of." n