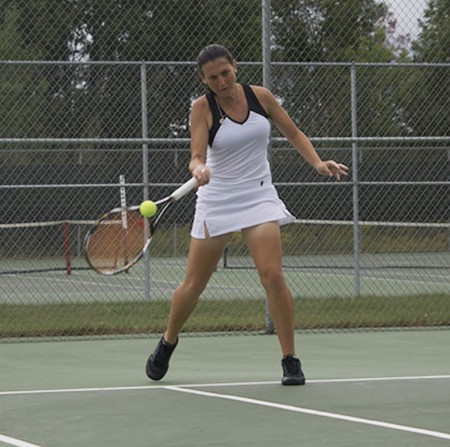 Ferris State University athletics welcomed Alina Stanila to the women's tennis program this summer.
Stanila is from Alexandria, Romania, where she attended a technical school before coming to the United States to play tennis.
Before transferring to Ferris, Stanila played tennis from her freshman to junior year for California University of Pennsylvania. Now she has come to play her senior year for the Bulldogs. California won the last four Pennsylvania State Athletic Conference championships dating back to the 2007 season.
Stanila racked up a 27-8 overall singles record last season with California. During her junior year Stanila snagged three tournament wins in singles play for California.
FSU women's tennis coach Alex Palladino says she has significantly strengthened both the singles and doubles line-ups.
"She is a determined competitor with a tremendous ability to run down tough balls," said Palladino.
During Stanilas' freshman year she was awarded PSAC West freshman of the year and was also on the All-PSAC West women's tennis team for singles and doubles competition. Stanila transferred from California after her second year. The program was ranked top 10 in Division II with Stanila being a top 50 nationally ranked singles player.
Stanila has two years of eligibility left to play tennis at the collegiate level. Palladino says she is a pleasure to have on the team as a friend and as a motivator for the other players.
"There were several other schools interested in her, so we are fortunate that she chose to attend Ferris and join our team," said Palladino.
Stanila has yet to lose a singles or doubles competition in the GLIAC after joining the Bulldogs. n