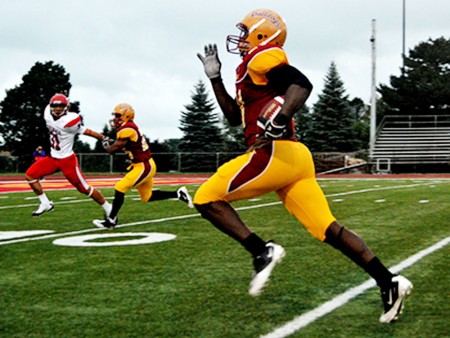 On a day where Ferris honored American heroes, the Bulldog football team upset the nationally No. 16-ranked Saginaw Valley State Cardinals 21-17.
With the victory, Ferris snapped an 11-game losing streak that dated back to Aug. 29 of last year and it also marked the second upset win over SVSU in the last five years. Before Saturday's victory, the Bulldogs had not won a conference contest since Oct. 25, 2008.
The Bulldogs, 1-0 in the conference and 1-1 overall, will travel to Columbus, Ohio, to face off against GLIAC newcomer Ohio Dominican University on Saturday. The Ohio Dominican Panthers fell 28-12 in their season-opener against Northwood. The Panthers previously competed in the National Association of Intercollegiate Athletics (NAIA) before transitioning to Division II this season.
In a close contest that was up for grabs in the closing minutes, Ferris sophomore linebacker Tayo Moss sealed the monumental home-opening victory with an interception with 41 seconds left to play.
"I'm just so proud of all of these guys and this win is just amazing," said junior quarterback Tom Schneider. "It took everybody, offense and defense, to make this win and it's just an amazing feeling."
Ferris came out firing in the first quarter as Schneider hit sophomore running back Skyler Stoker with a 35-yard touchdown pass to cap off an 80-yard drive with 3:53 left in the first.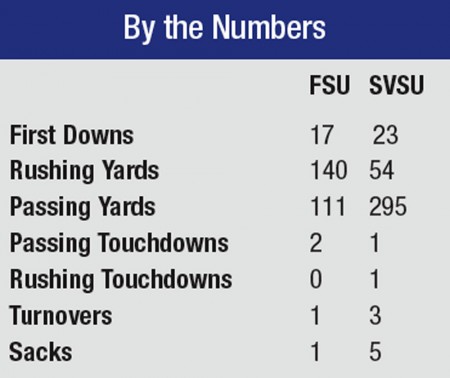 Schneider finished the day completing 20 of 28 passes for 111 yards and two touchdowns, along with 41 yards rushing.
The Cardinals retaliated with two straight scores in the second quarter, but the Bulldogs answered back with a one-yard scoring toss to sophomore tight end Kevin Guirand to knot the score at 14-14 with 5:05 left before halftime.
The Bulldogs made a momentum-changing play when sophomore cornerback Antwian Windmon intercepted SVSU quarterback Charles Dowdell and returned it for a touchdown to give Ferris a 21-14 lead at the half.
"That was such a huge play," said senior linebacker Matt Ryan. "We had them deep and we knew we were going to have some good field position either way, but to have Antwian take that back was huge."
Windmon continued to make big plays in the third quarter as he blocked a Cardinal field goal attempt. The Bulldogs allowed three points in the second half and Moss' interception sealed the victory and gave the Bulldogs the upset. Moss notched a game-high 12 tackles along with a sack and his key interception.
"To win at home against a good football team is big for us," said head coach Jeff Pierce. "We wanted to show people who we are and where we've come and I'm glad that our local crowd could watch that because we've got some good football to come." n