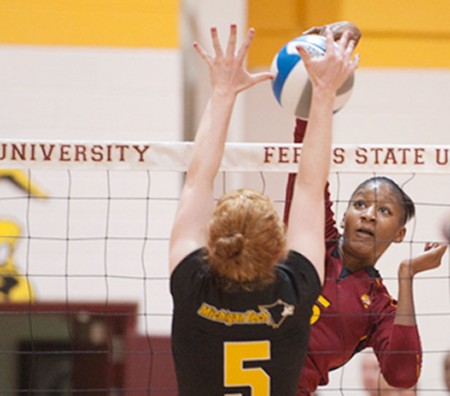 With a successful start to the season, the Bulldog Volleyball had mixed results as it split a weekend series against GLIAC foes.
The Bulldogs opened the weekend with a contest on Friday against Northern Michigan, which came into the weekend with a 4-0 record.
After a difficult first set, the Bulldogs came back ready to fight with four lead changes occurring during the second set and a very close third set, where they took charge and defeated the Wildcats.
With a chance to force a fifth set, Bulldog senior middle hitter Arielle Goodson would get a point to tie the game 23-23. But the match didn't end in Ferris' favor and NMU clinched the final set to claim the victory, 3-1.
"We played decent against Northern on Friday, but we just didn't execute like we needed to and with that came the loss," said junior Aly Brecht.
The team is taking the loss as a learning experience to grow from and apply to future games.
"Our lost to Northern is a good learning experience for us as a team. It is still early in the season and we are still making those tweaks here and there in our game," said junior Ashley Huntey. "I think that we will come together as a team, learn from this loss, and move forward to improve as a team each and every day."
The Bulldogs took this motive into their next game against Michigan Tech on Sunday. After winning the first and second sets, the Bulldogs looked to be in control. The Bulldogs used the momentum from the first sets to cruise to a 3-1 victory.
"We are happy with our win but know that we still have a lot to improve on," said sophomore Samantha Fordyce. "We made adjustments quicker in this game and we also had a lot of people come into the game off the bench ready to go, which was awesome."
The Bulldogs will play three games on the road this week, as they travel to Grand Valley State on Wednesday, Northwood on Friday, and Lake Superior State on Sunday. n