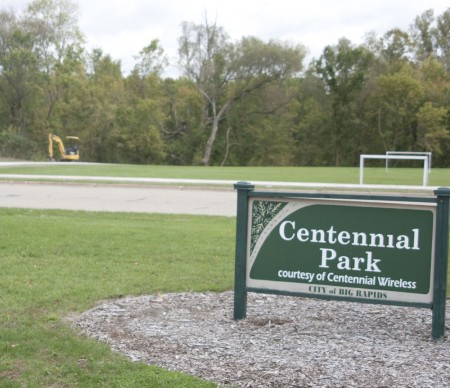 Phase three of Big Rapids highly anticipated Riverwalk project is nearly complete.
The nearly $500,000 project will add over a mile of trail between River Street Park and the Maple Street bridge.
Ferris State biotechnology senior Justin Phan said the completion of the phase three project will provide students in the community more outdoor activities.
"The additional mile will give whoever goes on Riverwalk more to see in Big Rapids," said Phan. "Overall, it is good for the community as well as the students."
Connecting numerous parks including Northend Riverside Park, White Pine Trail State Park and Hemlock Park, Riverwalk has become a staple in the Big Rapids community. Riverwalk's previous 2.6 mile stretch of trail was funded partially by city community members and charitable donations.
Beginning in early summer, funding for the phase three Riverwalk project is being supported through the Michigan Department of Natural Resources and Environment.
Big Rapids city workers have recently completed the parking lot, paved portion and sand paths along the Muskegon River. Workers are also currently installing additional fishing docks along the Muskegon River and wooden bridges along the sand path.
Pre-pharmacy sophomore David Vue said the Riverwalk provides community members a chance to enjoy activities along the Muskegon River.
"The Big Rapids Riverwalk gives students more recreational options," said Vue.
Big Rapids City Manager Steve Sobers said completion of phase three of the Riverwalk project is only part of a longer-term plan to extend the community attraction.
"Riverwalk one and two are widely successful," said Sobers. "As we get one section of Riverwalk complete, we look toward ways we can expand."
Sobers said a large part in deciding the initial construction and location of Riverwalk was due to the city's ownership of the land. Sobers said the newly included third phase of the Riverwalk will get many patrons due to its close location to a residential area.
Sobers also said Ferris students can look forward to the Big Rapids Riverwalk being joined into the university's main campus.
"There is a long-term master plan to extend the Big Rapids Riverwalk through Ferris' campus," said Sobers. "Being able to reach the Ferris campus would double or even triple the Riverwalk's success." n