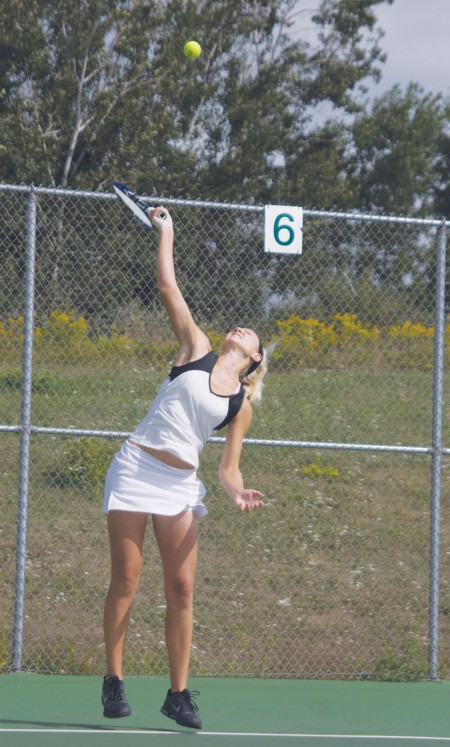 Ferris State women's tennis competed in the Intercollegiate Tennis Association Midwest Regional championships this weekend with some mixed results.
The ITA Midwest Championship was held at Jenison (Mich.) High School. Grand Valley State University hosted the event, which included the top singles and doubles competitors from the region.
Senior Alina Stanila earned a top overall spot in singles competition which led to gaining a bye round to start the tournament off. Stanila finished the tournament with a 2-1 record, reaching the quarterfinals, but losing to Wayne State University's Kristina Goranskaya by a 7-5, 6-3 score.
Senior Amy Ingle was seeded 11th overall and recorded a 2-1 singles record to claim a spot in the top 16 of the tournament. Junior Melissa Flowers snagged a 1-1 overall record before falling to the sixth-seeded player in the tournament while senior Tiffay Rheynard battled injuries and lost her only singles match before defaulting from the rest of the tournament.
"I feel the girls did an excellent job representing Ferris this weekend," said Ingle. "This is an extremely hard tournament with teams from all over the region."
In doubles competition, the tandem of Ingle and Rheynard won their opening match before falling in the second round and leaving the tournament with a 1-1 record overall. The pairing of Stanila and Flowers lost their only doubles match of the tournament.
Ingle said the team is very supportive of each other and they push each other to work harder in practice and in matches. Ingle also said the chemistry of the team is good and the team is very determined to have the best season they have ever had.
"I would say as a team, our expectations are pretty high this year," said Ingle. "Last year we finished fifth out of 10 schools in the conference, but this year we
are looking to finish top two, and even possibly win the GLIAC championship."
The Bulldogs will resume their season against seven-time GLIAC defending champions Northwood University. Over the last six seasons Northwood has been undefeated in GLIAC play, compiling a record of 54-0 dating back to the 2004-05 season.
Ingle said Northwood is definitely one of the team's biggest matches of the season. In previous years Northwood has been almost untouchable, winning the league easily. However, this year Ingle thinks the lineup is strong enough to beat them.
"We are all going to have to go out on the court with more heart, fight, and determination than we have ever had before," said Ingle. "We will have to fight to the very last point, but I really do believe we can do it."
The Bulldogs will have completed their match against conference rival Northwood University on Tuesday after press time. Results will be posted after the match on fsutorch.com. n