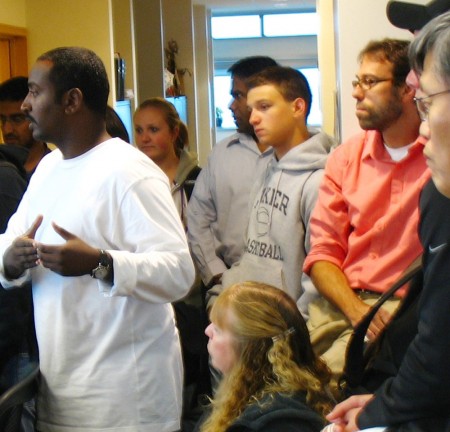 A new philanthropic grant is giving Ferris State students an opportunity to "pay it forward" this fall.
The Pay it Forward: Strengthening Communities through Student-Led Philanthropy grant gives students a first-hand look at the philanthropic process as they research to decide which non-profit community organization will be receiving the grant money. The grant requires that students volunteer at a non-profit agency for at least 15 hours.
The $15,000 grant will be spread between three courses. This includes two in the fall and another in the spring. Each class will award $4,500 to non-profit organizations and $500 will be used toward classroom expenses.
Professor Sandra Burn's community dentistry and Professor Stephanie Thomson's
persuasive speaking classes are currently partaking in student-led philanthropy projects that will benefit local non-profit organizations.
"We're giving [students] the reigns and allowing them to determine how to distribute the grant funding," said Thomson.
The organizations will have to address needs such as youth programs, neighborhood development, or needs pertaining to hunger, homelessness or health issues. The non-profit agencies must be located in Mecosta, Osceola, or Lake County.
According to Academic Service Learning (ASL) co-coordinator Wendy Samuels, the grant can be renewed for a second year depending on the success of the first year's courses.
Samuels as well as other members of the ASL steering committee played an important role in Ferris receiving the grant. The committee determined what courses would be best suited for the grant and in the end, sent four applications for the grant. Of the four classes that applied, three were accepted.
According to the Michigan Campus Compact official site, a total of eight Michigan universities, including Ferris, have received grant money this year. Central Michigan University, Western Michigan University and Michigan State University are among the recipients.
The grant is provided by the partnership of the Michigan, Ohio and Kentucky Campus Compacts and funded by the Corporation for National and Community Service: Learn and Serve America (CNCS).
For more information concerning the initiative at Ferris, contact Academic Service Learning co-coordinator Wendy Samuels at ext. 5896. n