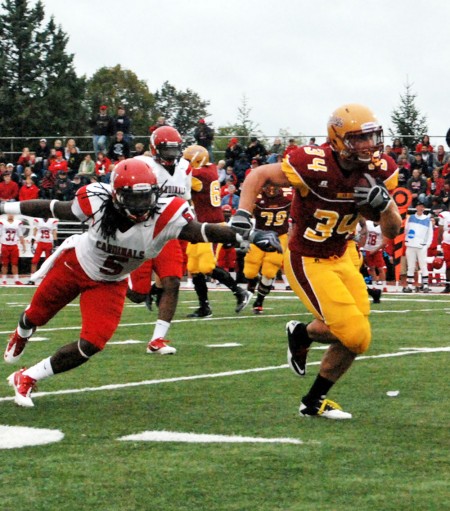 The Bulldogs claimed their first road win in nearly two seasons with a victory over Ohio Dominican.
Despite racing out to a 28-6 advantage by the third quarter, the Bulldogs let the Panthers claw back into the game with three third-quarter touchdowns, but two key stops in the final four minutes of the contest preserved a 34-28 win for Ferris.
"We had some misfires today [Saturday] and we created a competitive game at the end, which if we would have done some things better earlier in the game it wouldn't have been that way" said head coach Jeff Pierce. "But the bottom line is that we won and that's the most important thing."
With the win, Ferris is 2-1 overall and undefeated in GLIAC conference play, with the Bulldogs in a four-way tie atop the conference standings. The team will return home this weekend for a Saturday face-off against conference foe Tiffin, which is 0-2 on the season.
"We'll put this win behind us after 24 hours and get back in the lab breaking down film and practicing and getting ready to play," said senior receiver Chris Wilson. "It is going to be a great game and we still haven't opened up our offense all the way yet, so we will definitely have some surprises up our sleeves."
Ohio Dominican made the first strike just three minutes into the contest, as Mike Noffsinger punched it in from 19 yards to take the early lead.
But the Bulldogs piled it on for the next two quarters, as the offense and defense accounted for 28 unanswered points to push the lead to 28-6 with 9:58 left to play in the third quarter, with a key blocked kick that resulted in a touchdown return by sophomore Mike Elias with 8:29 left in the second quarter highlighting the scoring explosion.
The Panthers weren't finished as they battled back and outscored Ferris 21-7 to cut the deficit to just six points with 4:15 left in the contest.
With the game on the line, the Bulldogs fumbled on the ensuing kickoff to give Ohio Dominican the ball on the Ferris 25-yard line, but the Bulldogs forced a punt after four straight stops.
But a three-and-out forced the Bulldogs to punt to the Panthers, keeping their hopes alive with 1:30 left to play.
The Bulldogs had other ideas as sophomore cornerback Antwian Windmon picked off a fourth-down pass to give Ferris the ball and ultimately seal the win. Windmon also had a key interception in last week's contest against Saginaw Valley State.
"Antwain has really stepped it up and he's becoming the lockdown corner in the GLIAC," said Wilson.
Leading the way for the Bulldogs on offense was junior quarterback Tom Schneider, who piled up 208 yards passing with two touchdowns while completing 19 of 28 passes. Senior Mike Ryan paced the defense with 13 tackles, one sack and a forced fumble. n