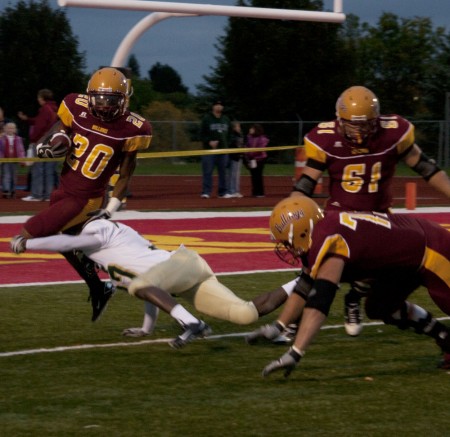 With sophomore cornerback Antwian Windmon continuing his playmaking ways with a blocked kick and junior quarterback Tom Schneider leading an offensive explosion, the Bulldogs trounced the Tiffin Dragons on Saturday.
The Bulldogs, who are now 3-1 and in a four-way tie atop the GLIAC conference, piled up 479 yards of total offense on their way to a 52-28 lopsided victory.
The 52-point showing is the highest scoring total since a 62-42 home victory over Northern Michigan in 2005.
Though Ferris only held a slim 21-18 lead at the half, the team put the game away in the final half with a 31-point outburst with 24 points coming in the fourth quarter.
"Our offense continues to get a little better each week," said head coach Jeff Pierce. "Now that the offense is starting to click, it's really coming along and I'm proud of the way the guys are adapting to that."
Schneider led the offense assault, as he racked up four touchdowns and 142 passing yards on 13-16 passing. Schneider also racked up 77 yards rushing for a gaudy 10.9 yards a rush average.
"I don't even think we've seen the offense at its full potential because we haven't even ran half of the playbook," said senior receiver Chris Wilson. "This offense is amazing and we have a lot more to bring out."
Wilson led the receiving core with four catches for 64 yards and two touchdowns.
Though Schneider was the second-leading rusher on the day, sophomore running back Skyler Stoker led the ground attack with 106 yards. The Bulldogs running game racked up 337 yards compared to the Dragons' 74 yards on the ground.
Senior fullback Leon Curry chipped in 53 yards rushing and a touchdown and sophomore back Tyler Thomas tallied 46 yards on the ground and a touchdown.
"Today we were just clicking on all cylinders and everyone was just balling out," said Stoker. "We know the holes are going to be there and we just run and it's fun and completely different from the years before."
Though the offense put on a show, the defense allowed 302 yards on the day and Pierce said that while the team needs work it can at least take lessons out of a win rather than a loss.
Senior linebacker Matt Ryan again led the defense with 12 tackles and one tackle for loss. Sophomore linebacker Tayo Moss chipped in nine tackles and Windmon racked up three tackles along with his clutch blocked field goal in the first quarter.
The Bulldogs will try to continue their success against Ohio schools on Oct. 2, as they face off against Lake Erie on the road. Ferris is 2-0 on the season against Ohio schools with victories over Ohio Dominican and Tiffin.
For more photos from the game, click here.