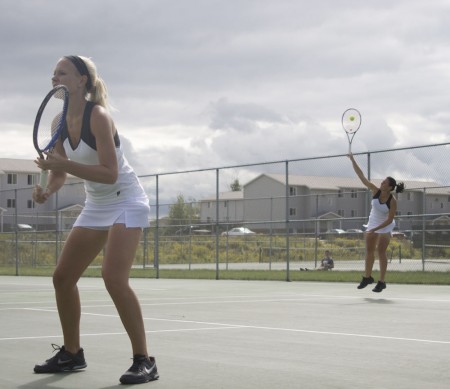 The Bulldogs got back to their winning ways on the hard court this past weekend as they topped Lake Superior State and Michigan Tech.
The women showed no ill effects from losing their first match of the year last week against Northwood as they steamrolled Lake Superior State to start off their weekend.
Sophomore Tabitha Simpson said the team's first loss was a disappointment but the team will bounce back.
"We were all hoping to be undefeated this year, but instead of letting it keep us down we learned from it," said Simpson.
The lesson was apparently well learned as Ferris had a 2-1 lead after doubles competition and then went on to sweep all six of the singles flights, with only two of which going to three sets.
The Bulldogs continued their strong play as they finished their weekend by capturing a 7-2 victory over host Michigan Tech.
Ferris won all three doubles matches and four of the six singles contests.
Seniors Alina Stanila, who is number one in singles play in the GLIAC, and Amy Ingle, who is on the number one doubles team, each had a perfect weekend as they both went 2-0 in singles and 2-0 in doubles. Junior Natalie Diorio felt that it was important to win both of these matches after the loss.
"It is really important that everyone is doing their best and get these wins to try to get the conference championship because it is still not out of sight," said Diorio.
The lady Bulldogs will next be traveling south to face off against conference rival Grand Valley State on Oct. 1. Ferris won the only meeting between the teams last year, 5-4. n