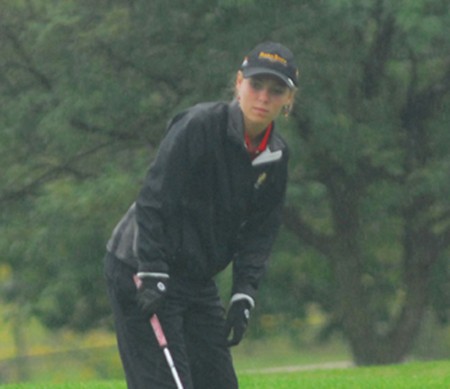 Ferris State competed in the Mary Fossum Invitational, an NCAA Division I tournament, held at Michigan State University Sept. 25-26.
The Bulldogs did not fare well against the competition consisting of Division I schools, such as Michigan State University, Kent State University (Ohio) and the University of Notre Dame, and ended up earning a last-place finish playing in the field of ten teams.
"The team definitely could have performed better, but playing in a Division I tournament is definitely a learning experience for everyone, especially both our freshmen that went," said junior Bryce Hetler. "Not only that, but MSU is the most challenging course and field we play all year, including nationals."
Hetchler and freshman Jacqueline DeBoer both tied for the Bulldogs best finish at 54th place. Emily Rhody tied for 58th place, Ashley Swanson tied for 60th place and Erin Fuchik held on to the last place finish at the 63rd spot for Ferris. Hetchler said the competition rivals the most intense that the team ever participates in, even more than the national tournament.
"The course, for one, is the longest yardage we play," said Hetchler. "The greens were extremely fast, and some very, very good Division I schools were there."
After facing Division I competition, Hetchler said one thing the team could improve on is trying to stay positive on the golf course and take the game shot by shot instead of worrying about past holes.
Coach Mike Mignano said to compete with some of the top Division I programs in the country for two days is a wonderful experience. Ferris State was going into the tournament after capturing a win at Lake State Superior University Sept. 11-12.
Mignano said he was pleased with this last weekend's performance because he believes the women learned a lot about themselves and what they are capable of both individually and as a team.
"We will use the Fossum Invitational as a building block for the rest of our fall season and into the spring of next year," said Mignano.
The Bulldogs will be competing next at Grand Valley State University in the Grand Valley State Laker Classic on Oct. 3-4. Last season Ferris took 10th place out of a field of 16 teams. n