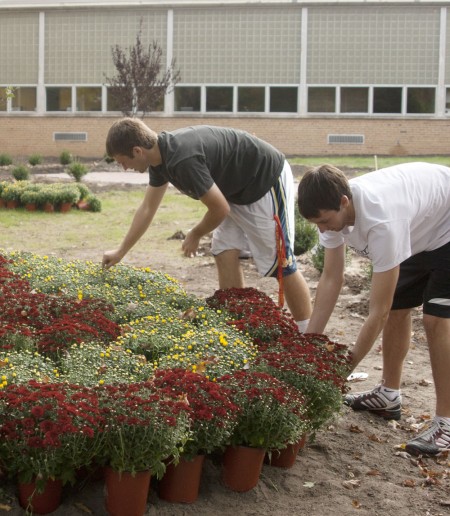 A garden is being planted on the campus of Ferris State University to honor Helen Gillespie Ferris and all the work she put into the university.
Carla Miller, associate vice president for University Advancement, said the idea for the garden was thought of by retired Ferris professor Frank Crowe. Miller said Crowe was inspired to honor Helen Ferris when the 125th anniversary of the university was being celebrated.
"It became apparent to him [Crowe] that Woodbridge Ferris' wife stood by him the entire time he was developing the university," said Miller.
Crowe stated in a Bulldog Byte article that he began doing extensive research on Woodbridge and Helen as his retirement was nearing and that he became very interested in Helen and how much she contributed to developing Ferris Industrial School.
"She was quite a mover and shaker, and the more I learned about her the greater appreciation and admiration I developed for her," said Crowe. "Establishing a garden in her honor was the perfect way to honor someone who delighted in nature and was so important in the creation of what is now Ferris State University."
Miller said she, Ferris professor of biology John Vanderploeg, and the Director of Grounds Will Gasper started talking about the idea. They decided to proceed with it and a site was selected for the garden between the west campus Prakken and Alumni Buildings on Oak Street.
The design for the garden turned into a contest for Vanderploeg's horticulture students who began working on possible designs for the garden after its groundbreaking last year.
"I was able to work this project into my curriculum by planning a lot of class activities around it. The students liked it, too, because it was something that was actually going to be installed on campus," said Vanderploeg in a Bulldog Byte interview. "Most of their hands-on experience has been with residential design, and this gave them something new to work on that would have a lasting impact on the university and the surrounding community."
Out of all the designs submitted by the students Vanderploeg chose the design of Josh Ackerman.
"Helen's Garden was designed to be practical and useful, despite its formality that is reminiscent of the Victorian Era," said Ackerman in a Bulldog Byte interview. "The plants for Helen's Garden were chosen because of their availability and popularity during that time period."
The garden will feature plants that are native to Big Rapids and the surrounding area.
"There are plants such as bluebells and lily of the valley that will be transplanted from that piece of land where they [Helen and Woodbridge Ferris] lived and be placed in the garden," said Miller.
The planting and upkeep of the garden will be done by Vanderploeg and his students, but volunteers are being sought to help as well.
"Maintenance and planting is all volunteer. We have support from both companies and individuals," said Miller. "It's a collaborative effort and we have lots of folks saying they want to roll up their sleeves and get their hands dirty and be a part of history."
Patrick Raddler, sophomore in the optometry program, said, "I think it's a great idea really, and it involves the student body and it is a project that will improve the aesthetics of the campus, which would be nice to see."
Raddler went on to say, "As for recognizing Mrs. Ferris, I think it is nice to see the campus recognize other players in the development of the university."
The dedication of Helen's Garden will be held on Oct. 9 beginning at 9:30 a.m. and lasting until 10 a.m. in between the Prakken and Alumni Buildings. Until then, students, faculty, and community members can volunteer to help finish planting the garden by contacting Andrea Lodholtz to get planting dates and times at ext. 3567. n