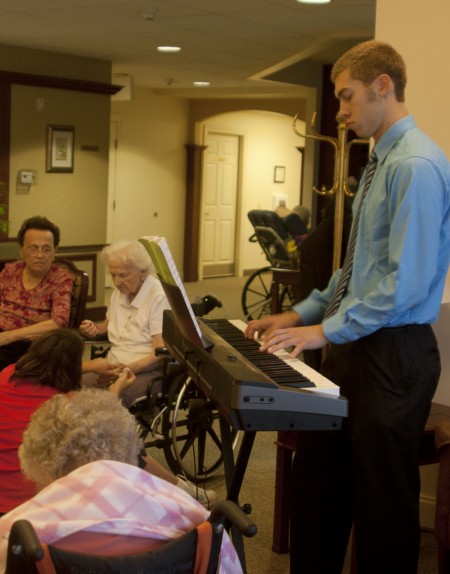 For most Ferris students, an hour a week is time that could be spent doing a number of things, but for Jordan Scott that hour is spent somewhere most college students probably wouldn't be found: with the elderly.
Scott is a freshman in the honors and pre-pharmacy programs. Originally from Indiana, Scott began playing piano when he was five-years-old as a mandate from his mother, but he soon fell in love with the instrument and began playing even more as a teenager.
The summer before coming to Ferris, Scott attended a church camp. The theme of the camp was to encourage listeners to answer God's calling for their life right now instead of waiting until after college. At that time Jordan decided to start using his gift of music to serve beyond himself.
"I remember when I was really young and I first started taking piano lessons, our recital one year was at a nursing home. That memory always stuck with me, but I never really thought much about it until the last couple of years. I really felt a calling to the sick and the elderly, but I really didn't respond until just recently," said Scott.
Since that point, Scott spent his summer in Indiana playing weekly at Sandards Glen Assisted Living and Maple Park Village Nursing Home performing a range of music. But Scott hasn't let his calling end there as he continues to use and practice his gift in college despite his busy schedule.
"I practice everyday," said Scott. "A lot of the songs involve muscle memorizations so the timing will be off if I take a couple days off."
And testimony agrees that Scott is always hard at work.
"I always hear him playing, sometimes at random times," said Scott's suitemate David Wessel. "But he's really talented."
The people in Jordan's hall see it as Jordan's hard work ethic manifesting itself.
"He's ambitious, organized, and he knows where he's going. He balances playing with his busy schedule very well," said freshman Stacy Grysen.
Inspired by Jordan's heart to serve and character of integrity, Grysen recently nominated Scott for the "Outstanding Student Volunteer Award." Scott won and Grysen will present him with the award on Oct. 8.
"He's an exemplary student and volunteer. He genuinely enjoys volunteering," said Grysen.
One of the things that sets Scott apart is his genuine intrinsic desire to serve for the sake of serving.
"Jordan shows that doing community service and helping others shouldn't be about just racking up your hours for the honors program, but it should just really be out of the kindness of your heart," said freshman Greg Shilz.
Scott said his reasons for serving weren't always the purest though.
"When I first started I was worried about motives. My whole life I wanted to impress people and when I first got this calling it was before I changed," said Scott. "I was concerned I would start doing it to impress people so I decided to keep it a secret."
But Scott also realized that by letting others share their gifts for the better, he was reaching even further beyond himself and adding to the value of the performances.
"My little sister wanted to sing, and I struggled with wanting to be the center of attention, but when I started having people come with me it really improved the whole concert. It's more meaningful to the residents because they can see that there is more than just one person who cares. I can just see the smiles on their faces," said Scott.
Many people have witnessed Scott's good intentions though, including freshman Claire Nelson.
"I think you definitely don't see a lot of college students taking time out of their busy lives to actually go out into the community not just for honors hours," said Nelson. "He's doing it because he enjoys it and I think that's what's really great about it."
But beyond the realization that he is doing a good thing for others, Scott sees his visits to the nursing homes as a means for his own personal growth.
"I really went into it thinking that I was doing them a favor, but I've actually learned a lot just from going there," said Scott. "I probably benefit from it more than the people I play for because they've taught me different styles of music based on song requests."
Scott's resident advisor sophomore Haley Stegeman also noticed that Jordan sees his visits not just as a gift to the elderly, but also as his own educational experience.
"He is interested in making relationships with people that are outside of the student age, which is important to him because he enjoys getting wisdom from older people," said Stegman. "I think he truly has a heart for others and he understands there are things bigger than himself and what he's got going on in life."
As easy as it is to volunteer for the wrong reasons, whether it be getting the minimum amount of required honors service hours or trying to impress someone, Scott's story sends a message of altruism and of the beauty of reaching out into the community with the skills each person is given.
"Serving God isn't about impressing people, it's about just serving," said Scott. "The people at the nursing home don't care how fast I move my fingers. They just want to sing along." n