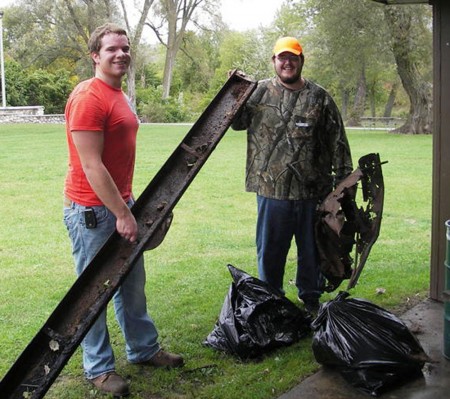 A class of Ferris State biology students contributed to the Muskegon River Watershed Assembly's fall cleanup project.
The community event was in conjunction with the Muskegon River Watershed Assembly's annual fall cleanup effort, the Great Lakes Alliance and The Ocean Conservancy's International Coastal cleanup.
Biology instructor Cindy Fitzwilliams-Heck said the nature studies' 116 students tallied the collected trash for monitoring purposes. The data was then recorded and analyzed on both a state and international level.
Fitzwilliams-Heck said the students were also required to write about their experience in the cleanup project. She said she hoped the project would further the students' involvement with the environment around them.
"My hope was to help them develop more of a connection with the environment and also with their community," said Fitzwilliams-Heck.
The 22 participating students collected an estimated 400 pounds of scrap metal, bottles, cigarettes, fishing equipment, diapers and plastic bags.
MRWA Program Coordinator Terry Stilson said the organization sponsors several cleanups in their watershed throughout the year.
"We have a huge watershed, over 2,700 square miles in size," said Stilson. "In this cleanup, we cleaned along the west side of the Muskegon River from Northend Park down past the Maple Street Bridge, Hemlock Park and Mitchell Creek."
Stilson said it is important to keep local waterways clean due to the numerous amounts of contaminates carried by misplaced trash.
"Some pieces can trap and kill wildlife," said Stilson.
According to Stilson, an estimated 20 Ferris students participated in last year's event. This year, a larger number of students contributed to the MRWA cleanup project.
"I like to have participants count each piece of trash so they can see at the end of the event how much they have collected," said Stilson. "It also makes them think twice before throwing a piece of trash on the ground."
Fitzwilliams-Heck said keeping the waterways clean is an important task for everyone.
"Mitchell Creek and the Muskegon River are two important riparian systems in our community and we want to keep them clean for the wildlife and the people who frequent these areas," said Fitzwilliams-Heck. "Litter is everybody's problem." n