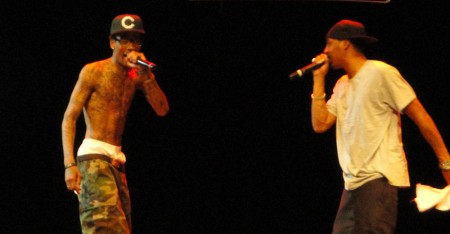 The Kappa Alpha Psi Fraternity, Inc. hosted its second annual Kappa ShowKase in Williams Auditorium with Wiz Khalifa as the headliner at a sold-out show Oct. 2.
In addition to the Kappa Alpha Psi Fraternity, Inc., the Office of Multicultural Student Services and student activity fees as allocated by the Finance Division of Student Government helped bring the concert to FSU.
For Ferris students, tickets were sold for $5 and $10 for non-Ferris students, but since the show sold out two weeks before the event, eager concert-goers were paying upwards of $80 to see Khalifa. Some students were hesitant to pay that much, but others paid the price to get into the show.
"Wiz put on a good show and he really knows how to hype up the crowd. I would pay around $80 to see him live," said Todd Horton, a pre-med student.
Cedric Williams, a senior in the music industry management program, agreed with Horton and said, "He is an up and coming rapper that really puts on a show worth going to. If I had to, I would have paid a lot more to see him."
This was Khalifa's only stop in Michigan during his "Waken Baken" tour. As the tour implies, weed was heavily talked about during the rap show. With lyrics such as "in the cut, in the cut, roll them doobies up," this show was intended for mature audiences only.
YelaWolf, Khalifa's opener, had a last-minute cancellation due to filming a spot on the BET channel. For some, this was a disappointment. Most weren't bothered by the cancellation though as they just came to see Wiz perform.
Justin Wensel, a junior in the hospitality program, was excited to see YelaWolf and said, "He was the only one I knew performing tonight. I had a good time, but I am glad I didn't pay more than five dollars to see an artist not show up."
Ferris students were not the only ones attending the show. Many students from various colleges attended to support their fellow classmates on stage.
Students from different colleges got a chance to showcase their skills during the show and pump up the crowd before the main act. Toine Da Prynce from Ferris got to perform on stage as well as a few other acts like Young Celebrity from Eastern Michigan University, TJ Upshaw from Western, and R.I.B.S. from Grand Valley. n