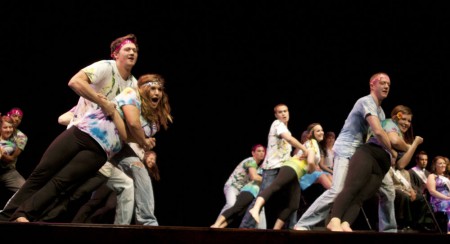 Homecoming theme ideas started rolling as Ferris State pride began to take a trip back in time to the 1960s.
It started with the mention of the famous Beatles song "Get Back to Where You Once Belonged" by one of the homecoming committee advisors.
From entertaining the lyrics and altering them slightly, the planning committee expanded on the song to encompass a total '60s theme for this year's homecoming, targeting Ferris alumni with the tagline.
"We really liked the slogan because a major part of homecoming is inviting alumni to 'get back to where they belong,'" said overall homecoming chair Rachel Maloney.
Homecoming Queen candidate Morgan Toms agreed the theme sends a message of community and belonging among past and present Ferris students. As student government president, Toms has worked and interacted with many students, faculty, and organizations and is a firm believer in becoming an intricate and involved part of the college community.
"I love the Beatles and the theme of 'Get Back to Where You Once Belonged' and I belong here at Ferris, and I will always feel like I belong here," said Toms.
Homecoming Queen candidate Hannah Hackbardt viewed the theme as a creative experience for students.
"I'm pretty excited since I wasn't around in the '60s. It's always interesting to see and experience a new decade," said Hackbardt.
One annual event was the lip sync contest that took place on Monday, in which student groups chose a '60s song and performed a dance. This year will also be the second annual Ferris Best Comic Competition, where three Ferris comedians will perform and the winner has the opportunity of opening up for comedian Christian Finnegan on Friday night.
Also back this year will be a bonfire put on by Byron Williams, one of the event chairs for the homecoming committee.
"He is doing some very exciting things with it this year," said Maloney. "He is planning on having several competitions, such as a frozen t-shirt competition, tug of war, most spirited, and best dressed competitions."
"I'm excited to take part in the homecoming bonfire. I've heard it's fun and you get to meet lots of people," said Hackbarkdt.
In addition to various competitions, there will also be a DJ, the pep band, and lots of food. Another event included is a bedsheet banner competition in which residence halls and RSOs are encouraged to decorate bed sheets to portray the '60s theme and share Ferris spirit.
The week of fun will end Saturday with the annual parade in downtown Big Rapids, the football game against Findlay, Homecoming King and Queen presentation, and the Homecoming Social at The Gate. The first 100 students to attend will receive free tie-dye drawstring bags to accompany the theme.
"I can't forget the homecoming dance. It's my favorite part. I love to dance and put my moves on the floor," said Hackbardt.
To supplement the hopes that alumni will return, the homecoming committee wants all Ferris students to take advantage of a week of fun and school spirit.
"Homecoming is the one time that unites the student body, alumni, friends, and families to show pride for Ferris. School spirit is at an all-time high during this week and it is my goal to keep this momentum going throughout this year," said Toms.
Toms added school spirit is always better when everyone on campus is involved.
"It's a week of tradition and celebrating your Bulldog pride, plus it is a lot of fun to come out to the events," said Maloney.
For more event information on homecoming and all the events, contact Rachel Maloney at rmoloney3@nullgmail.com or visit the homecoming website at ferris.edu/alumni/homecoming/homepage.htm. n