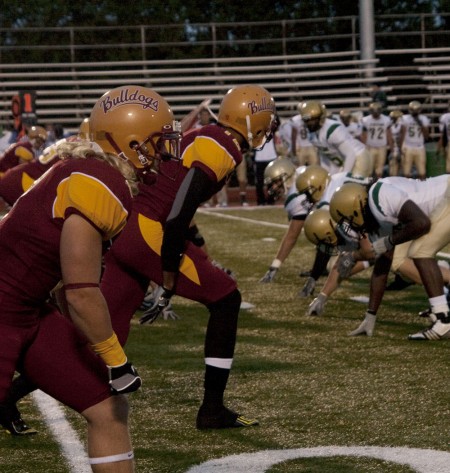 With a victory over Lake Erie University, the Bulldogs have put together their first four-game winning streak since the 2004 season.
Ferris battled the opponents and the elements in a rainy contest that had the team down 9-7 at the half. The Bulldogs battled back as they outscored Lake Erie 15-3 in the second half to claim a 22-12 victory.
The matchup marked the first time the two schools have met on the gridiron, with Lake Erie being in its first year in the GLIAC. It also marks the lowest scoring total allowed by the Bulldogs since a 14-0 shutout win over Findlay in 2008.
The win places Ferris in a three-way tie atop the GLIAC conference along with Grand Valley State and Michigan Tech.
"You feel good with the win, but we obviously have things we need to work on," said head coach Jeff Pierce. "But, we're moving in the right direction."
Junior quarterback Tom Schneider continued his efficient play of late by racking up 162 yards passing and a touchdown pass on 15-of-22 passing. Schneider has completed 69.3 percent of his passes on the year.
Junior receiver Mike Ryan was the recipient of Schneider's 42-yard touchdown pass, along with seven catches for 98 yards. The touchdown gave Ferris a 10-point lead with 9:35 left in the fourth quarter.
"I thought we did alright offensively," said Schneider. "We were able to get it together at halftime and we made some good adjustments."
Sophomore running back Tyler Thomas led the ground attack with 56 yards on 10 attempts and senior Leon Curry tacked on 52 yards on nine runs. Sophomore running back Skyler Stoker had the only rushing touchdown, which came on the first drive of the game.
The Bulldogs were outgained 261-148 on the ground for the day.
While the defense allowed 351 yards in the contest, the Bulldogs held Lake Erie to only 90 yards passing. Sophomore linebacker Alex Barjak recorded an interception and a fumble recovery while senior linebacker Matt Ryan racked up a game-high 15 tackles.
Sophomore cornerback Antwian Windmon blocked a field goal attempt for the second consecutive week, with the fourth-quarter block allowing the Bulldogs to run out the clock for the win.
With the team at 4-1 overall and 4-0 in the GLIAC, the players can't help but notice the difference in this year's team compared to the one from the 1-10 campaign last season.
"Everyone has a totally different attitude and this team is playing with a lot of confidence now," said Windmon. "It's a completely different atmosphere."
Ferris will attempt to stretch its winning streak to five games as the team faces off against Findlay in the annual homecoming game on Saturday. n