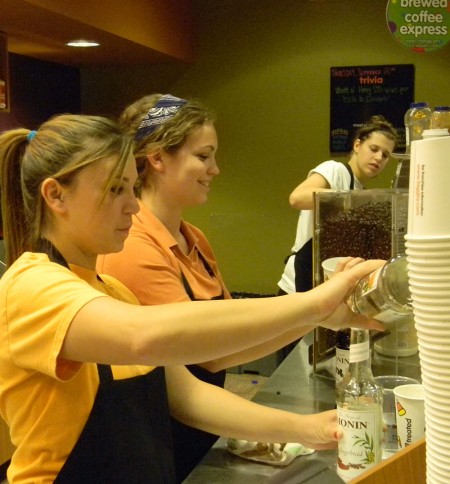 Daniel Seddiqui is on a mission to travel to all 50 states, have 50 different jobs, one in each state, in 50 weeks and he is coming to Ferris to talk to students about this adventure.
Seddiqui transferred from the University of Oregon to the University of Southern California and received his bachelors degree in Language, Arts, and Sciences in Economics in 2005. After graduating, Seddiqui had a hard time finding a job, and when he had no luck after over 40 interviews he decided to take whatever job he could find.
He started out doing tutoring, but knew it wasn't for him so he took a chance and applied to 18,000 colleges in hopes of getting a coaching job. He landed one without pay in Chicago. He took the job and moved there with no income because the position was voluntary. He began doing anything he could to earn an income.
The program he was coaching soon fell apart and he headed down to Indiana for a new job. There he experienced things he had never done or seen before, such as shooting a gun, seeing Amish people, and eating his first grilled piece of corn on the cob. He couldn't get enough and decided to see more. He called this new adventure "Living the Map."
"My inspiration to travel the country and work various careers comes from the people," said Seddiqui. "I was unaware of life outside my bubble."
Seddiqui became a risk taker who was willing to move to new places he had never been before. He wanted to see how people around the United States lived and where they worked and why.
"Nothing is more appealing than the contrasts," said Seddiqui of traveling to new places, meeting new people, and taking on new careers. "I cover a broad range of careers that are true American jobs."
Seddiqui hopes he will be able to show Americans how much impact they have on "the environment, career, and culture that shape their lifestyles."
Seddiqui has plans to make 50 episodes that are each a little over a half hour in length that highlight each position he has worked in. He believes these episodes will appeal to every American because he represents so many different types of jobs. He has been everything from a surf instructor in Hawaii, a model/agent in North Carolina, a sugar maker in Vermont, to a hydrologist in Colorado.
Ferris students have their own ideas about what their perfect job would be and where they would want it.
Stephen Jackson, senior in the political science program, said, "I'd want to be a chef in Hawaii because of the exotic nature of the food and recipes. Also, the subculture that is in Hawaii would provide a unique cooking experience."
"I'd like to be a facility manager for Comerica Park in Detroit since it's close to home and it's like a dream job," said Nate Cameron, junior in the facility management program and graduate from the architectural technology program. "But if I could have any state, and being close to home didn't matter, I'd do facility management for the Diamond Backs Stadium in Arizona."
Morgan Toms, senior in the business administration program, said, "I would be a personal shopper in North Carolina because then I could get paid for something that is usually my biggest expenditure."
"Working with animals at Disney's Animal Kingdom in Florida would be my dream job because I love Disney, I love animals, and, of course, I love warm weather and beaches," said Amber Koepel, sophomore in the pre-pharmacy program.
"I would be a professional surfer in Hawaii because I could wake up whenever I wanted, catch some waves, and chill on the beach all day," said Chris Vallier, senior in the criminal justice program. "I would watch the sun go down, have a fire with my surfing brohas and some beautiful Hawaiian women, and then wake up and do the exact same thing. It would be perfect."
Seddiqui will be speaking at FSU tonight in Williams Auditorium at 7 p.m. Admission to this event is free. For a full list of his different careers and locations, visit livingthemap.com.
"My goal is to help Americans understand each other's lives, respect each other's hard work and stimulate people's curiosity about different lifestyles," said Seddiqui. n