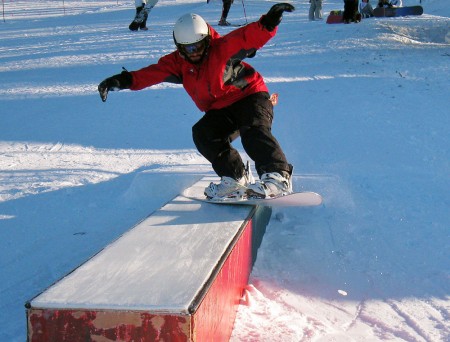 Shred is a new Registered Student Organization (RSO) available to people of all skill levels who are interested in skiing and snowboarding.
"I thought it would be good to have a way to bring snowboarders and skiers together," said Oscar Azevedo, co-founder and instructor at Caberfae Peaks Ski Resort in Cadillac. "We wanted everyone to rock out, have a good time and serve the community."
Shred plans on participating in various activities, including making T-shirts and doing community service.
"We're doing a benefit rail jam outside MC Sports and I think Red Bull might be in on it," said Azevedo.
Founder of Shred, Mike Bailey, said creating the RSO has been a long-term goal.
Bailey also said Red Bull is also interested in sponsoring a movie night on Ferris' campus, at which they will distribute some of their products. Once snow falls in Big Rapids, Shred plans on shoveling driveways for the elderly and recycling snow.
Azevedo said Shred members will also be making trips to Caberfae Peaks Ski Resort. However, they will still actively ski and snowboard at "Mount Wink," their name for the large hill by Ferris State's Wink arena.
Dale Skornia, Shred's advisor, is an active skiing member of the group who is excited about the new semester.
"They were just getting started last year, but at the end of ski season," said Skornia. "Now, they are up and running full, and this year looks like a lot of fun."
According to Bailey, it's a challenge in the off-season to practice, so Shred is currently building rails in their spare time and using ice shavings from the campus ice arena to build ramps.
"My favorite thing about Shred is the fact that so many people get excited about the sport even when there's no snow," said Azevedo.
Shred's next meeting is Oct. 20, at 6:00 p.m. in the Rankin Centennial room. n