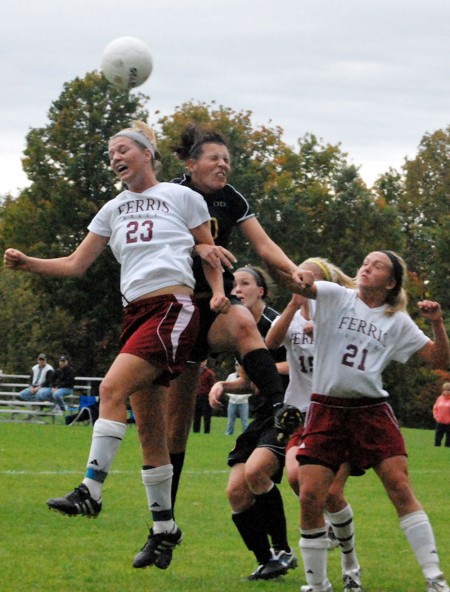 The last three minutes against the Ohio Dominican soccer team could not have been more heartbreaking for the Bulldogs.
With 2:32 left in the match, Ohio Dominican's Sage Patterson took a direct shot from 30-plus yards away from the goal that was just out of Ferris freshman goalkeeper Rachel McCollum's reach.
The shot landed in the far right corner, just above McCollum's outstretched fingers. The Bulldogs then pushed their offense down the field in an attempt to equalize the late goal but with time running out, Ferris could not force a tie. The loss snaps a five-game winning streak for the team.
Ohio Dominican improved their record to 4-1-2 in the South Division of the GLIAC, while the Bulldogs now have a record of 4-3-1 in the GLIAC North Division. The Bulldogs are no longer on an unbeaten streak, but head coach Matt Kellogg believes since the team started the season 0-4, they have shown resilience and the ability to rebound from losses before.
"We're really going to focus our efforts, learn from this, and at the same time forget about it and look forward to the second half of the season," said Kellogg.
Ferris State tallied the first goal in the first half of the match thanks to senior forward Kara Lovelace's penalty kick. Lovelace, off her third goal of the season, extends her goal-scoring spree to three in a row to date.
Soon after the Bulldogs' goal, Ohio Dominican netted a game-tying goal by Jennifer Holton. Ohio Dominican held a 12-4 registered shot advantage over Ferris. Kellogg said he felt the Bulldogs came out flat and Ohio Dominican was all over Ferris in the first half.
"Ohio Dominican was a very organized, very big, physical and strong team that beat us up in the first half," said Kellogg. "Their mid-fielders really took it to us and I don't know if we gave them enough credit coming into the game."
In the second half, Ohio Dominican had fewer shots registered than during the first half, with Ferris and Ohio equal at five shots apiece. Ferris held a 4-3 advantage in corner kicks but Ohio Dominican held a 7-6 shots on goal advantage. Kellogg said he thought Ferris controlled the majority of the second half and thought his team really stepped it up.
"I'm glad that we finished stronger as opposed to starting strong and then giving up," said Kellogg.
The Bulldogs will try to put the loss behind them on Oct. 8, as they face off against Saginaw Valley State University in a GLIAC North Division matchup. Saginaw Valley is 5-2-1 in the GLIAC North Division.
Kellogg said Saginaw is going to be a tough opponent but still thinks the Bulldogs can win the game if they are playing well. The Bulldogs have already faced Saginaw Valley State this season but lost the match, 1-0, on the Cardinals' home field. The opening kick is scheduled for 4 p.m. on Oct. 8 at Top Taggart Field. The Bulldogs will then take on Northwood, who are 1-7 in GLIAC play, with the match set to start at 12 p.m. on Oct. 10 at Top Taggart Field. n