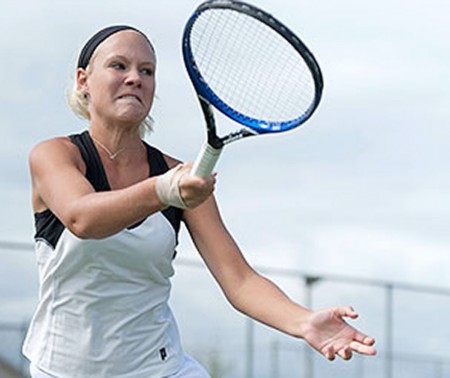 The Bulldogs tried to fight their way to a winning finish on Friday, but ultimately fell short to the Grand Valley State Lakers, 6-3.
The doubles matches was where the Bulldogs saw most of their trouble as only one team, seniors Amy Ingle and Tiffany Rheynard, claimed a doubles victory. They defeated their opponents 8-6.
The Bulldogs captured their second point of the day when senior Alina Stanila claimed a singles victory by triumphing her opponent 6-1, 6-1.
Tabitha Simpson, who played at the sixth-singles spot, came out on top with a score of 6-0, 6-3. Simpson's victory was the last point Ferris would gain on the day.
"We all knew how crucial the match was and coach told us to just go out there and play one point at a time and not to worry about winning, just to worry about going out there and playing our best tennis every single point, giving it our all," Simpson said.
"We all knew that if we had won the match then we would have gotten a banner and been first in the GLIAC and we were all pretty disappointed because of the loss."
With the loss, the Bulldogs dropped their conference and overall record to 6-2 on the year. Grand Valley sits atop the GLIAC standings at 7-0.
"Overall I feel that everyone gave it their best effort in the match," Ingle said. "We started off from behind as we went down one to two in doubles play, and Grand Valley just carried their momentum through to the singles play. It was a tough loss for the team, but we will go with even more motivation into our next three home matches this upcoming week." 
The team will get a break from the road with two home matches this week, with a tilt on Thursday against Ashland and a Friday contest against Ohio Dominican. n