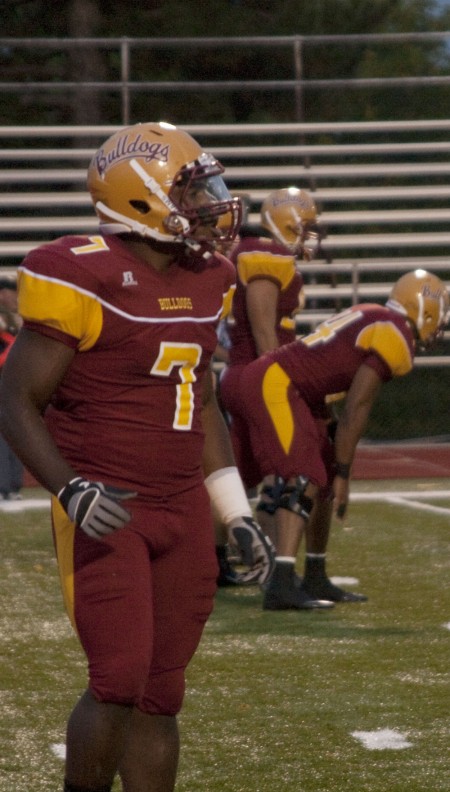 When talking to Ferris players and coaches about sophomore cornerback Antwian Windmon, one word always comes up to describe him: Playmaker.
Windmon, a Chicago native and criminal justice major, has made an impression on coaches and teammates alike with his stellar play in the first five games.
Windmon has made several defensive and special teams plays in the first few games, including a key interception return for touchdown against Saginaw Valley State on Sept. 11.
"He's a legitimate speedster and he's just getting better with his technique," said head coach Jeff Pierce. "He's a pretty good technician and he's getting better as he goes."
Though Windmon has gained attention for his play at the colligate level, he turned heads at the high school level as well. Windmon started receiving scholarship offers from around the nation during his sophomore year at Morgan Pierce High School in Chicago.
As he piled up all-state and all-conference awards in his high school career, Windmon took a scholarship offer from Kentucky State after graduating in 2008.
Though Windmon played as a true freshman at Kentucky State, a disconnect between players and coaches prompted Windmon to transfer to Ferris State after his first season.
"I was in a good position to start in my sophomore season, but I didn't like the way the team was going," said Windmon. "There was too much drama and no team unity with the players or the coaching staff."

Windmon was attracted to the criminal justice program at Ferris, which also influenced his decision to transfer.
In his first season with Ferris in 2009, Windmon played in all 11 contests and started one game. With a chance to claim a starting spot in spring ball this year, Windmon took advantage of the opportunity by earning the Most Improved Player Award for spring ball.
The strong spring earned Windmon one of the starting cornerback positions, and he has turned into a premier playmaker on the Bulldog defense.
Although Windmon has made the plays, he gives some of the credit to his coaches for his performance this season.
"My coaches do a good job of telling us what the opponents are going to do," said Windmon. "As long as I keep buying into what they tell me, I can continue to make big plays." n