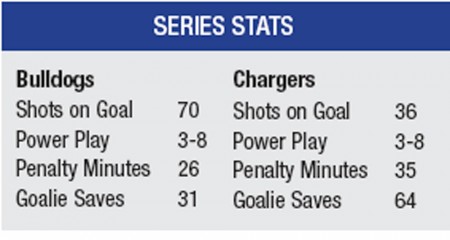 The Bulldogs split their season-opening series against Alabama-Huntsville this weekend.
Ferris opened its season with an impressive performance as the Bulldogs coasted to a 4-1 victory over the Chargers. Junior Chad Billins was the star of the night as he scored the team's first goal of the year and then scored the eventual game winner after the Chargers had tied it at 1 apiece.
Senior Zach Redmond patted the Bulldogs' lead in the third period with 9:25 remaining and senior Mike Embach added an empty netter to round out the scoring. Sophomore Travis Ouellette added two assists in the victory.
Senior goaltender Pat Nagle was not tested often in the contest as he picked up the win by making 11 saves on the night.
"It felt great for our team to have a big first night," said Billins. "We have been training and practicing hard and it was nice to see it pay off in our first regular season game."
The second game of the series was a different story for the Bulldogs as they fell 4-2.
Alabama-Huntsville scored only 42 seconds in the contest and was up 2-0 after the first period. Ferris was able to erase that deficit in the second period as junior Jordie Johnston and senior Nate Hennig scored back-to-back goals. The Chargers then reclaimed the lead for good in the waning seconds of the second period, as they would add another goal in the third period to send Ferris to its first loss of the season.
"The difference between the first game and the second was pretty small but they capitalized on their scoring chances in the second game and we took a few penalties out of frustration that ended up costing us," said Redmond.
Those penalties proved to be costly for the Bulldogs in the contest as the Chargers went three of five on the power play.
"I would consider the weekend a bit disappointing because we would have liked to sweep," said Redmond.
Ferris will continue action against non-conference opponents as it takes on the St. Lawrence Saints in the home-opening series on Oct. 15 and 16. n