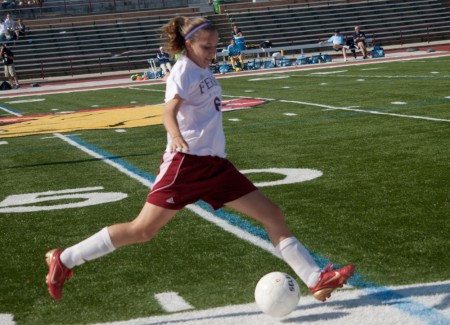 Playing their first game on Top Taggert field, the Bulldogs battled their way to a 2-0 win over Saginaw Valley State University on Friday.
During the first half, the Bulldogs wasted no time scoring the first goal as junior Bri Borgman tallied the goal against Saginaw Valley to notch her seventh goal of the season.
The second half would remain the same until the final minutes, as freshman Emily Kraska would score the final goal to clinch the victory for the Bulldogs. Ferris held a dominating advantage in shots taken over Saginaw Valley, as it outshot the Cardinals 11 to 5.
"Our team worked very hard today all around," said senior Megan Stec. "It has been awhile since we beat them and we finally proved it in this game that we can't be taken lightly."
The Bulldogs took their momentum from the Saginaw Valley contest into a Sunday contest against Northwood University, as they came out on top, 2-0. The Bulldogs outshot the Timberwolves 15 to 9 and had seven saves compared to Northwood's five.
Sophomore Kelsey Aubil scored the first goal in the first half with an assist by senior Kara Lovelace. The second half would remain the same until Stec scored on an assist by Borgma to close out the contest and clinch the victory. The goal was Stec's second goal this season for the Bulldogs.
"We started off a little slow today but we figured out what we needed to do," said Stec. "The second half was a different game and we put it to them and finished them off."
After the weekend, Ferris is 6-5-1 overall and 6-3-1 in GLIAC conference play.
The Bulldogs will travel to Lewis on Tuesday, and then will come back home to host Michigan Tech on Friday. Coverage for the Lewis game will be on fsutorch.com. n