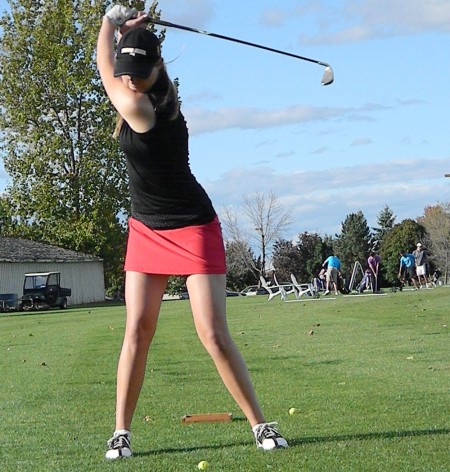 As the fall season came to a close for the Bulldogs, the team battled back in the second round of the Findlay William Bing Beall Classic to take a top-three finish.
The Bulldogs, who won't be in action again until the spring season kicks off on March 7, rallied in the second and final round of the tournament to jump from fifth place to third place with a final score of 631 for the weekend.
Host Ashland claimed the top spot with a score of 600 and Grand Valley State calimed second with a tally of 628 in the tournament. Junior Erin Fuchik said the second-round rally was inspired by a specific team goal the Bulldogs set for the year.
"Our goal this year was to beat Grand Valley and we were very close after the first round," said Fuchik. "We rested up after the first round and the girls came out and 'did work' to pull back into a top-three spot."
Fuchik paced the Bulldogs with a score of 154 for the weekend, good for a share of fifth place. Junior Cooper Shawen, sophomore Ashley Swanson and freshman Emily Rohdy all finished the weekend at 158 strokes to finish in a five-way tie for 11th place.
Both Shawen and Rohdy took part in the tournament in a non-scoring capacity while Swanson was one stroke short of tying her season best.
Freshman Jacqueline DeBoer tallied a score of 160 to finish tied for 18th while junior Bryce Hetchler took home a share of 24th place with a score of 162.
Coming in 29th for Ferris was junior Blaize Baumgartner with a score of 164. Juniors Breezy Bernth and Brooke Rodes finished in 40th and 45th respectively as they both competed as non-scorers in the tournament.
The Bulldogs had a strong performance throughout the weekend, as six of the nine Ferris golfers placed in the top 25 individual spots for the tournament.
"This team has grown so much over the fall season and our performance this weekend really shows that we are heading in the right direction," said Fuchik. "We'll take this momentum into the offseason and this spring season should hold some really great golf for us."
With the fall season completed, Ferris will return to action on March 7-8 as it will take part in the Rollins Peggy Kirk Bell Invitational in Longwood, Fla. n