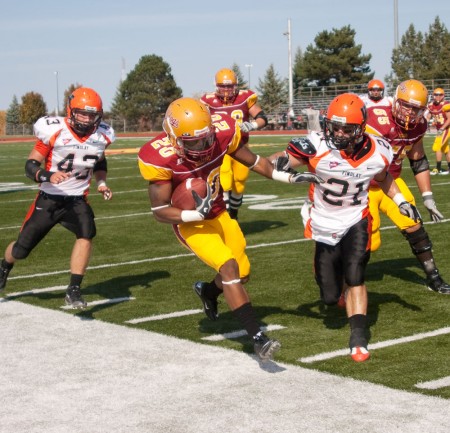 Behind an impressive second-half performance on defense, the Bulldogs overcame turnovers and penalties to clinch their first homecoming victory since 2006 with a 23-10 win over Findlay.
Despite trailing 10-6 at halftime, the Ferris defense cranked up the pressure in the second half to limit Findlay to only 21 yards in the half. With the defense stepping up, the offense took advantage by tallying 17 unanswered points in the second half to clinch the victory.
Although the team was able to come out on top, it had to battle back from two fumbles and multiple penalties that stalled drives.
"The little things are the things we have to clean up," said Head Coach Jeff Pierce. "You clean it up and put all that stuff together and with the way our defense is playing, we can be playing some dominant football."
The win marks the first five-game winning streak since 2004 for the program and it leaves the Bulldogs tied atop the GLIAC with rival Grand Valley State, as both teams are 5-0 in conference play.
Junior quarterback Tom Schneider led the offense with his arm and his feet, as he piled up 252 yards passing on 24-of-32 attempts while tacking on 59 yards and two touchdowns on the ground.
Senior receiver Chris Wilson led the receiving core with five catches for 83 yards. Junior receiver Damien Miller racked up seven grabs for 67 yards while fellow junior receiver Mike Ryan tallied five receptions for 44 yards.
Sophomore running back Dwayne Williams piled up 57 yards and scored the final touchdown of the contest to put the game away in the fourth quarter. The Bulldogs racked up 456 yards of offense with 23 first downs.
"I felt as an offense that we were able to move the ball, but we can't be having penalties and turnovers," said Schneider. "The defense picked us up though, and that's what a team is about, picking each other up."
On defense, senior linebacker Matt Ryan once again led the Bulldogs with 12 tackles and an impressive one-handed interception. Senior defensive tackle Jacob Moreno tallied 11 tackles in addition to two quarterback hurries and a sack while junior linebacker Tayo Moss recorded 10 tackles.
Ferris ended the day with four tackles for loss and two sacks with five quarterback hurries.
"You just could see the offensive linemen cower after they see a few plays and they see what we can do," said Moreno. "They just kind of fold and that lights a fire under us."
Ferris will head to the Upper Peninsula on Saturday to face off against a 3-3 Northern Michigan team, as the Bulldogs will look to put together their first six-game winning streak since 1996. n