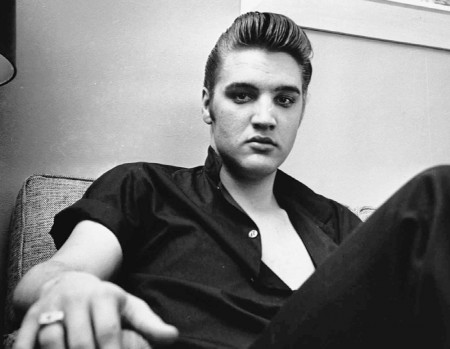 Since Elvis' death in 1977, Elvis tribute artists like Jake Slater have kept the memory and spirit of him alive.
Jake Slater and the EAS Band from Chicago will be performing An Evening with Elvis at Big Rapids High School on Oct. 14.
"If anyone ever wondered what an Elvis show was all about, this is one you don't want to miss," said Jennifer Thede, Ferris employee and co-founder of the Michigan Elvis Presley Fan Club (MEPFC).
The fan club was created by Jennifer and her husband Scott in January of 2009.
"As Elvis fans going to Elvis events, we felt there was a missing piece, which was a central network of Elvis information, especially related to events in our state," said Thede. "Our Web site, mielvis.com, intends to be a place where Elvis fans can connect and find out information."
Slater has been performing professionally for about two years. The MEPFC began working with him for the Elvis Birthday Bash 2010.
"Jake has a great ability to connect with the audience.  His voice is very strong and he is able to perform all the Elvis eras," said Thede. "We predict that in a few years it may be difficult to even catch a show in Michigan.  He is a great over-all talent, and he'll likely be on the national Elvis tribute tours or cruises in the near future."
The concert is being put on as a fundraiser for the Big Rapids High School band. The money raised will be put toward such things as instruments, equipment repairs, and uniforms.
"A lot of people are working very hard to make this a great show, and we have a lot of student involvement and participation," said Thede. "Attending this show is another way to support the arts and the students in Big Rapids, many of whom end up attending Ferris."
An Evening with Elvis will take place on Oct. 14 at 7 p.m. at the Big Rapids High School Auditorium. Tickets can be purchased at showclix.com or by calling 888-718-4253. Ferris students with a valid ID get half off the original ticket price. For more information, contact Jennifer Thede at 796-4467 or jennifer@nullmielvis.com, or visit mielvis.com
"We'd love to have Ferris students, perhaps especially in the music-related programs, attend to see this wonderful band – the EAS Band from Chicago. This band is the utmost respected band in the Elvis tribute world and tours all over the country, in Memphis, and on the Elvis Cruises, so we are very fortunate to have them stop in Big Rapids for a show," said Thede. "Also, The Gate is inviting everyone to come enjoy their Thursday night specials after the Elvis show." n