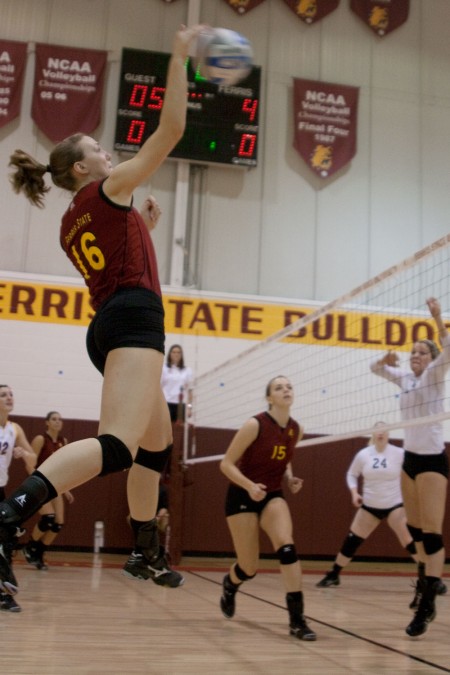 The Bulldogs went into the homecoming weekend looking for wins and that's exactly what they found winning against both Ashland and Lake Erie.
On Saturday night, the Bulldogs came out firing in a match against Lake Erie, winning the match in three sets. The Bulldogs managed to rack up a .238 hitting percentage over the three matches.
Senior Dana Ruttle knocked out 13 digs in the match to help the Bulldogs, along with junior Ashley Huntey's six kills and .308 attack percentage.
"The game was really awesome," said sophomore Aly Brecht. "Both teams played really good volleyball. Our defense was scrappy, which made for really good rallies. It was definitely a great win for FSU volleyball."
After a nerve racking four sets, the Bulldog volleyball team managed to fight their way to a win in the fifth and final set, 3-2 against Ashland on Friday. Junior Lisa Tobiczyk was honored before the match for recording her 1,000th career dig in a contest against Saginaw Valley State on Oct. 3.
The Bulldogs won the match with very close scores occurring in all sets, 27-29, 25-21,25-23, 27-29 and 15-9.
Ferris posted a substantially-high hitting percentage of .333 to help them secure the victory in the final set. Ashland managed to obtain only a .136 percentage.
Senior Arielle Goodson had 26 kills total with a .404 percentage and made six kills in 10 chances. Goodson also reached the 1,000th kill make for her career in the match, as she has 1,019 total kills to date.
Anne Sutton also had a good game, racking up a .393 hitting percentage. She also had five blocks, along with Samantha Fordyce's 55 assists and two blocks.
The Bulldogs now stand at 10-6 overall with a 7-5 record in the GLIAC. Ferris will return to action when they play in the GLIAC Crossover Tournament next Friday and Saturday in Aurora, Ill. n