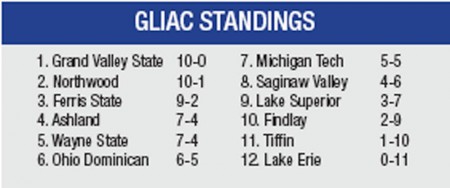 Ferris has hopes of stealing a GLIAC championship away from seven-time defending champion Northwood University after a strong finish to the regular season.
The Bulldogs wrapped up regular season play on Saturday against Lake Erie University with a merciless 9-0 victory that squashed the league newcomers. After the win the Bulldogs finished the season 9-2 in the GLIAC standings while dropping Lake Erie to 0-10 in the conference. The victory at home was the third straight for Ferris. The Bulldogs did not drop a single set at any position in their win against Lake Erie.
"The competition has been tough in nearly every match," said senior Amy Ingle. "Even in the matches where the score has looked fairly easy, we had to fight to win every point, every game, and every match."
Ferris faced Ohio Dominican Oct. 8 and battled for an 8-1 victory. Senior Tiffany Rheynard said the team's strength lies in the effectiveness of its line up.
"We have everyone where they belong all the way down the line so it helps when we know that we can match up evenly at every position," said Rheynard.
The team's closest win came from a 5-4 victory over visiting Ashland on Oct. 7. The win was the start of the Bulldogs' three-game winning streak and was also what motivated the women as they finished the season.
"Ashland has always been a team to look out for – we have lost to them in dual season matches in the past, so it was very important for us to go out firing on all cylinders," said Rheynard.
Senior Alina Stanila ends the season leading the league with a 9-0 record in the No. 1 flight of singles play, while the tandem of Flowers and Stanila lead the conference with an 8-1 record in doubles play. Simpson has a 5-1 record at the No. 5 spot and junior Natalie Diorio at the No. 6 flight has a 6-0 record, which leads the league. Rheynard is 6-3 in singles play at the No. 3 spot, which ranks second in the league.
Ferris will next be competing in the GLIAC championship on Oct. 22-24. The Bulldogs have not won since the 2002 season, when they shared the championship with Northern Michigan University. Since the 2003 season, Northwood University has won the GLIAC championship seven times in a row. Ingle said she feels the Bulldogs are ready to put everything they have into the tournament and are ready to prove to themselves and to other teams that they are the team to beat in the GLIAC tournament.
"Our team goal as of right now is to go into the GLIAC tournament fired up and ready to win the whole tournament," said Ingle. n