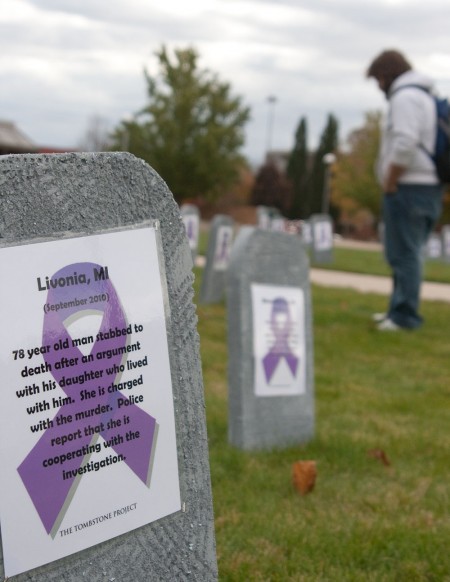 A total of 55 tombstones with purple ribbons on them have lined the campus quad since Oct. 11 to represent 55 deaths caused by domestic violence.
Jessica Moore, a member of the planning committee for the Tombstone Project and Women's Virtual Center Coordinator, said the goal of the tombstones is to bring awareness of how many domestic violence cases are actually occurring.
The tombstones display some of the reported stories of domestic violence. Some of the tombstones display horrific but true accounts of abuse, such as a woman being mauled by a tractor and a child being put on a grill.
"To be honest, I never knew just how many cases had actually happened until I went out and read them, and those are from just 2009 and part of 2010," said Moore. "Also, those are just the reported cases; a lot of victims don't report what happens to them."
Moore, fifth year applied speech communication major, developed ideas for the project with Michael Wade and a couple of the other members of the Office of Multicultural Student Services.
To achieve the tombstone effect, the creators used thick Styrofoam, took metal wire brushes and scraped it, then painted the Styrofoam with sand mixed with gray primer.
According to Moore, domestic violence can occur in a career, while the kids are at school, or inside the family home.
"It can occur almost anywhere and people don't realize what the actual definition of domestic violence really is," said Moore.
Moore doesn't personally know anyone affected by domestic violence, but is a big health advocate.
"Ever since my mom was sick with colon cancer, I've been huge on advocating women's health. Of course, men can be victims of domestic violence, as well," said Moore. "My mom's sickness has influenced my career choice and has inspired me to be involved with the Women's Virtual Center."
Moore advises students to help stop domestic violence by being aware of what's going on around them.
"If you see anything suspicious, just contact somebody. If you see a friend being abused by their boyfriend or girlfriend, report it before it leads to greater degrees of violence," said Moore. "You don't know what goes on behind closed doors."
Moore hopes students take the time to look at the stories on the tombstones.
"Reading those stories really hits home because they're all people from Michigan and it could be something in a student's hometown," said Moore. "Taking just ten minutes to look at those puts into perspective how horrible domestic violence is. Those are just a few of the reported cases in our state. A lot of students have told me they never realized how frequently this [domestic violence] happens."
The Tombstone Project, which leads up to the Take Back the Night Rally Against Domestic Violence, ends on Oct. 25. An open discussion entitled Stepping Up and Taking Action will take place on Oct. 21 to discuss signs of domestic violence.
For more information about the project, contact Michael Wade at michaelwade@nullferris.edu. If you or anyone you know is a victim of domestic violence, contact local police or call the national hotline at 1-800-787-3224. n