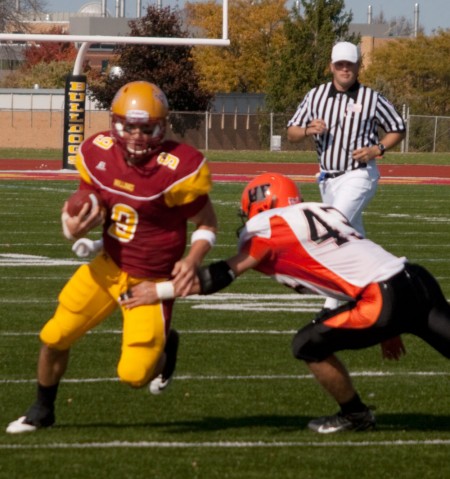 After a poignant loss to Northern Michigan, the Bulldogs have their minds set on a win at home against Grand Valley State on Oct. 23.
Ferris had its five-game winning steak stolen away from them by Northern Michigan after a narrow loss of 22-20. The Bulldogs dropped to 5-1 in the conference and 5-2 overall.
"We left a lot of points on the board and didn't take advantage of all of our opportunities," said senior receiver Chris Wilson. "We took the loss as a hit on the chin and now we're figuring out our mistakes."
The Bulldogs will be fighting the No. 1 Grand Valley State Oct. 23 with vengeance in mind. The Bulldogs have not defeated five-time defending GLIAC champion Grand Valley since the 2002-03 season and Ferris has not beat Grand Valley for 12 years. Wilsons' main motivation for the game against Grand Valley is the history of the rivalry between the two teams. Wilson said the team needs to play the same solid football that got the team to 5-0, before the loss to Northern, in order to bounce back against Grand Valley. Coach Pierce said the most important thing for the team is to play at the top of their game against Grand Valley.
"We're hungry for a win," said Wilson. "Last year we were so close to beating them that this year it feels like there's nothing in the way to stop us."
Grand Valley is currently 6-0 in the GLIAC and with a loss against the Bulldogs Oct. 23, the Lakers would be set back to a 6-1 record. If the Bulldogs win against GVSU, they will improve to 6-1, with only three more football games before the playoffs. Ferris is in the chase for first place and Wilson said he could not be more excited to give GVSU its first loss. He has played Grand Valley every year of his collegiate career and has lost against them every time. Wilson said he wants to finally beat the Lakers because this year is his last chance to do it.
"We've made a lot of progress this season and we need to continue to make progress," said Pierce.
Ferris State hosts rival Grand Valley on Oct. 23 in the Anchor-Bone Classic with kickoff set for 2 p.m. at Top Taggart Field. Tickets will be sold at the stadium two hours prior to kickoff. n