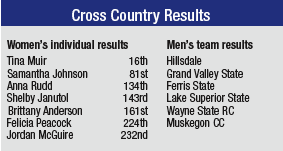 The Bulldog men and women cross country teams were both on the road this weekend as the men continued to improve while the women fell to the middle of the pack.
The men's team went to compete in the Hillsdale Charger Invitational in Hillsdale on Saturday. The team finished third in the overall standings behind Hillsdale College and GVSU for the tournament. The total team time was 2:17:32.00 and it ended with a score of 98.
Sophomores David Silversmith and Alex Bladecki both finished in the top 25 in the 8k run. Silversmith earned 15 points to finish in 22nd while Bladecki earned 17 points to take 25th.
"Our team ran really well considering the conditions of the course. Hillsdale is where our conference championship meet will be held at and it's nice that we got to get a preview of what's to come," said freshman Connor LaRowe. "Now we know what to train for the next couple of weeks so we can really hammer it when it really counts."
At the same time, the women's team competed at the Penn State National competition in State College, Penn. Of the 31 teams in the meet, the Bulldogs managed to come out in 16th place, finishing right in the middle.
Senior Tina Muir placed 16th for the Bulldogs in the 6k event, while freshman Samantha Johnson took 81st and sophomore Anna Rudd finished 134th. The team had an average time spread of 22:35.
"The course yesterday was a tough one; it was hilly and the wind was pretty strong, even though the race went out really fast, all the girls did well to work their way through the field and show people that Ferris State may be a Division II school, but we can still compete and do well against Division I teams," said Muir. "Finishing 16th out of 31 teams at this high caliber meet is an impressive result. As long as we continue to work together and keep pushing forward as a team, we will keep improving and moving up."
Both teams will travel to Ypsilanti next weekend to compete at the Eastern Michigan Classic on Oct. 23. n