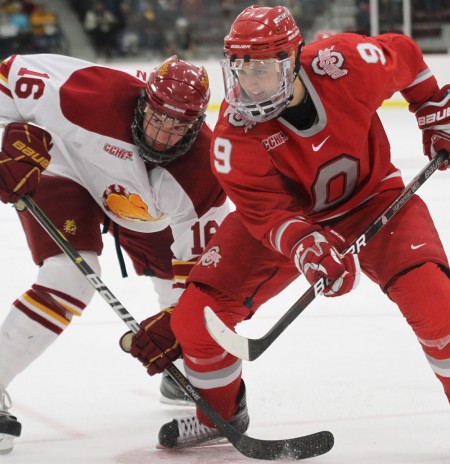 Ferris started the weekend right with a win over Ohio State University but ultimately could not hold on to its three-game win streak.
The Bulldogs won their first game in a two-game series against the Buckeyes on Oct. 22. Ferris took control of the gamein the second period by scoring back-to-back goals. Senior center Nate Hennig scored his fourth goal to start the night off for Ferris. Hennig increased his goal scoring streak to four games.
"I put in some effort this summer and I have to give all the credit to God, I guess," said Hennig. "We've been putting some pressure on the teams that we've been playing and the pucks have been squirting out to me and I've been able to take advantage."
Two and a half minutes later, the Bulldogs found themselves advantageous in the Buckeyes zone. Sophomore left wing Kyle Bonis got the puck past Ohio State to increase the Bulldogs' lead to 2-0, though the Bulldogs' aggressive offensive assault would only be spoiled by a late second period goal that got past senior goaltender Pat Nagle. Nagle ended the game with 26 saves and one goal allowed.
The Bulldogs went on to maintain a 2-1 lead through the entire third period. Both teams stopped each other during power play situations, each killing four penalties. Ferris defended its lead against three extra-man advantage situations in the third period and even held an 8-7 shot advantage over Ohio State. The Buckeyes ended the game with a 26-24 shots on goal advantage, but the Bulldogs defense prevailed.
"In each period there were opportunities for improvement, but I was happy with the overall effort of the guys tonight," said head coach Bob Daniels.
In the second game of the weekend series the Bulldogs fell short in the third period to Ohio State. The Buckeyes scored three times in the third period to snatch a 5-3 victory. Just before entering the third period, the Bulldogs rallied for a 3-2 lead at the end of the second period. But Ohio State fought relentlessly, outshooting the Bulldogs 16-3 in the third period alone. Ohio State went on to have a 31-24 shot advantage over the Bulldogs.
Scoring for the Bulldogs were senior defenseman and captain Zach Redmond, sophomore left wing Kyle Bonis, and senior left wing Matt Embach. Embach nudged the puck past the OSU goalkeeper to start the Bulldogs early. Bonis scored in the second with a go ahead tap in and Redmond followed Bonis' goal up with one of his own on a 5-3 man advantage.
Ferris State is now 4-2-0 overall and 1-1-0 in the Central Collegiate Hockey Association. The Bulldogs will next face the University of Michigan Oct. 29-30. First the Bulldogs will take the Wolverines on at home inside the Ewigleben Ice Arena before traveling to Ann Arbor on Oct. 30 for the weekend series finale. Ferris State's game at Michigan's Yost Ice Arena will commence at 7:35 p.m. and be televised live on Comcast Television. n