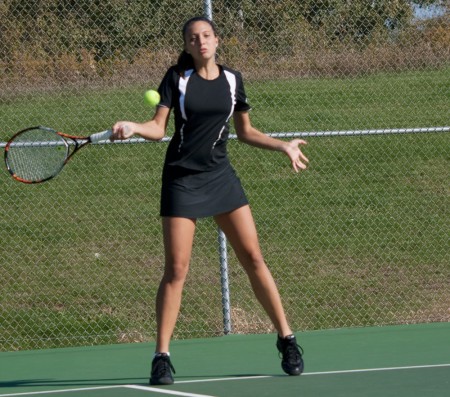 For the past three years, Ferris has not been able to earn a win in the first round of the Great Lakes Athletic Conference Tournament: Until this season.
En route to Ferris' first third-place finish in the GLIAC tournament since 2006, the Bulldogs romped Michigan Tech 5-2 to open tournament play.
Striding past Michigan Tech, Ferris would next take on seven-time defending GLIAC champion Northwood in the semifinals. During regular season play, Northwood edged by the Bulldogs with a narrow 5-4 victory.
Just as in regular season play, Northwood's doubles play exuded strength, pushing past Ferris' doubles competitors. During singles play Northwood managed to finagle themselves past the Bulldogs and finished with a victory. The loss forced Ferris to take on Wayne State University for third place. Ferris finished the tournament in third by routing the Warriors 5-1. Senior Amy Ingle said the win over Wayne State was the first win in three years of tournament play.
"I would say the most memorable moments of the season were beating Wayne State in the regular season and at the tournament, as well as winning our first round match in the conference tournament against Michigan Tech," said Ingle.
The lady Bulldogs wrapped the fall campaign up with an 11-3 overall record, the team's best overall record since fall 2004.
"Our team played fantastic tennis to finish out the fall season. From top to bottom, the energy, enthusiasm, and intensity was consistent and motivated," said head coach Alex Palladino.
The Bulldogs will resume play in the spring to start their spring season. Ingle said she thinks the team will keep carrying their fight and motivation into the next season.
"We are ready to win a round at Regionals this spring," said Ingle. n