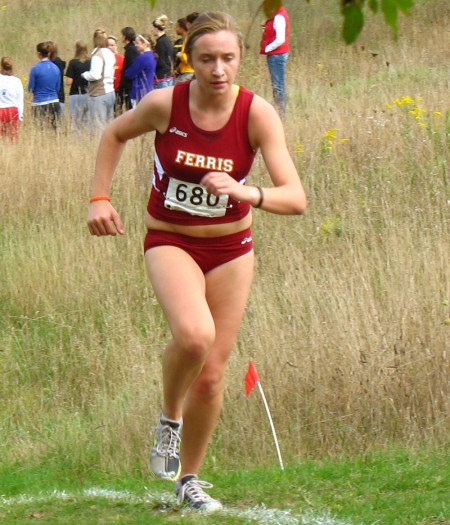 The men's and women's teams sent select runners to compete in the Eastern Michigan Classic over the weekend.
Although they came in non-scoring positions, both teams did well considering the course and stiff competition as the Bulldogs continue to prepare for the GLIAC championship.
The men's team received a change from previous meets by having to run only a 5k instead of the typical 8k event.
"We did a 5k at EMU rather than an 8k which is almost two miles less," said sophomore Ryan Chute. "We had to change our pace in the race and had to move a lot faster. It ended a lot quicker and felt a lot better."
Chute paced the Bulldogs' effort with a 13th-place finish with a time of 15:48.7 to be the first of the Bulldogs to finish. Fellow sophomore Michael Schulte claimed 23rd with a time of 16:10.2 while freshman Dakota Cooper clocked in 17:10.4 to take 52nd. Sophomore Jordan Slate came in 55th place with a time of 17:18.4.
"The few guys that went ran really well and we are pretty much just getting all set to run conferences in two weeks out at Hillsdale," Chute said. "Our team is getting better always so we are excited for the conference meet."
For the women's team, Ferris sent out four runners to complete at the meet. Sophomore Alyssa Osika was the first of the Bulldogs to finish with a time of 18:55.7, placing 17th overall. Shortly behind Osika was senior Paige Onweller with a time of 19:13.7 to take 29th place.
Freshman Jenna Daniels clocked in at 20:42.5 to finish at 72nd place and fellow freshman Haleigh Przybylek finished in 91st place with a time of 22:54.3.
"Well, we didn't have the whole team running, but the four girls that ran gave solid effort," Daniels said. "Meets like this one in the beginning of the season are just to get us ready for the more important races later in the season, like the GLIAC Championship and Regionals. Our training is designed for us to peak during these big races. Everyone has been racing really well and hopefully we will continue to improve and have a lot of break-throughs at the meets coming up."
Both the men's and women's team will travel to Hillsdale on Nov. 6 to compete in the GLIAC Championship. n