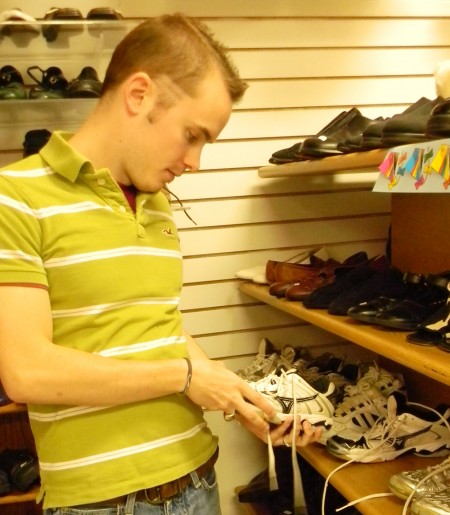 Ferris students are helping those in need through a Big Rapids organization known as the WISE Shopper.
WISE (Women's Information Service) Shopper is a non-profit store connected to the WISE shelter. The WISE organization is a domestic violence and adult sexual assault services program.
"I like the fact that I know that we're making a difference for people because when I was going through it, I didn't have anybody," said Celena Rosset, manager of WISE Shopper.
Rosset said the outreach program first finds out how much an item is worth. Then, WISE Shopper allows the client to purchase the item with a voucher instead of cash.
"Sometimes women come into the shelter with only the clothes on the back, and maybe their child needs clothing. They can get them at the Shopper," said Executive Director of WISE Terri Seadorf.
Items sold in the store include kitchen utensils, furniture, apparel and children's toys. Sometimes WISE Shopper will deliver donations.
"We are eagerly accepting volunteers," Seadorf said.
Botsford said his duties include sorting through donations, pricing items, keeping stock, and straightening up the Shopper when needed.
"I love helping people, and I know working here is going to go to a good cause like the women's shelter," said Justin Botsford, a criminal justice major and volunteer at WISE Shopper.
Botsford said they take all kinds of student volunteers. There have been some from graphic design, nursing and optometry. Some of them volunteer for the community service hours, and some, like Botsford, volunteer just to help out.
Seadorf said Ferris students and the Big Rapids community can help by continuing to shop and donate to the organization.
"We would like to see the Shopper start making money and support our other programs," said Seadorf.
Seadorf said WISE Shopper serviced 522 people in 2009.
The other programs WISE provides include a shelter for victims, prevention services, a legal program, family mentoring, domestic violence outreach, a sexual assault advocacy program and a children's program.
According to Seadorf, WISE is very collaborative with the Big Rapids community. It has ties with the Salvation Army, Project Starburst, and the Department of Human Services.
For those interested volunteering or in need of support, WISE Shopper is located at 115 S. Michigan Ave. You can call the shelter at (231) 796- 6600 or go online to www.wiseagainstviolence.org for more
information. n