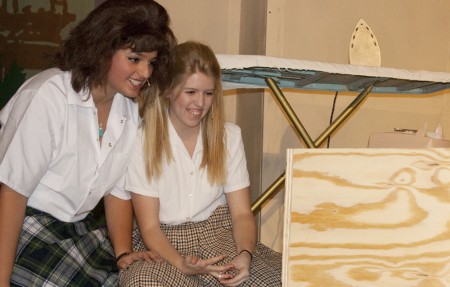 Ferris State students will get dramatic this week with the production of Hairspray premiering tomorrow night.
"Hairspray is a good show and it just became available," said Katherine LaPietra, FSU theatre professor and director of the production. "A lot of students seem to like it and know it."
FSU will be one of the first university theatres to do this show in the state of Michigan.
Tyler Easton, sophomore in the television and digital media production program with a minor in theatre, who is playing Harriman F. Spritzer in the show, said, "I absolutely love the fact that we are doing Hairspray because it's a great opportunity for myself as an actor."
Easton has been doing theatre for seven years and this is the third show he has participated in at Ferris. He said it's something he loves to do and has a passion for.
Anthony Brock Jr., freshman in the television and digital media production program, who is playing Seaweed J. Stubs, said, "I love Hairspray because it's a high energy play. I get to leave here in a good mood and I should be in a really good mood when I leave."
Brock's favorite part about this show was mastering his song.
Steve Gangi, senior in the survey engineering and philosophy programs, plays Corney Collins. He said, "When Anthony [Brock] stands up on stage and starts to belt out his song I melt."
Gangi is enjoying doing this show because he likes being involved with the theatre community and feels it's a great opportunity to share a message through theatrics.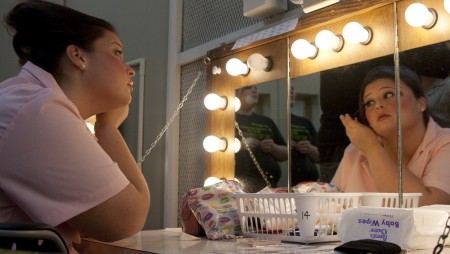 The students participating in this production expressed a true passion for what they are doing at FSU.
"My favorite thing about theatre is the freedom of expression," said Brock. "I like being able to be comfortable outside of normalness."
Matt Price, senior in the political science program, is playing Micky in the show. He said, "One of my favorite things is seeing people become very passionate and professional and also seeing the comradery that develops over time."
Cassie Halt, freshman in the criminal justice and forensic science programs, plays Shelley in the production and enjoys theatre and music because it is a big part of her life.
"I really wanted to join up and be a part of the musical family," said Halt.
"One of the most powerful things about being in a cast is we're a family and we bond a lot," said Easton.
The cast also loves the characters they get to play.
"My favorite thing about my character is he makes a really bland chick into a really hot chick," said Brock. "Plus, he's really smooth."
Gangi said, "My character is me embodied in a character. I was definitely typecast for this show."
Easton enjoys his character because it's the exact opposite of who he is in real life. He enjoys being in theatre because of the opportunity to experience life through many different personalities, which enables the ability to understand how a lot of different people work.
For anyone looking to be involved in a creative outlet, the cast encourages theatre as a form of expression.
"It takes a lot of work, but I think just about anybody can do it if they're determined enough," said Easton. "There are no limits in theatre and everyone can be involved."
LaPietra expressed how much work goes into putting on a show like this. They have had many volunteers, including students, helping to get things in order. The turnout of people wanting to be in the show was great with 92 students auditioning and 45 getting parts.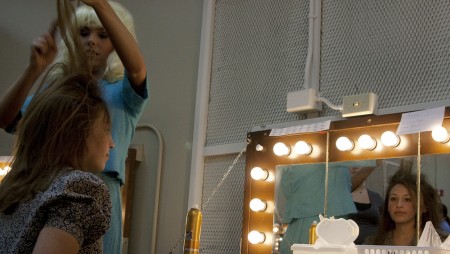 Hairspray will premiere at Williams Auditorium tomorrow evening at 8 p.m. The play will have two more showings on Nov. 5 and 6 also beginning at 8 p.m. and a matinee show on Nov. 7 beginning at 2:30 p.m. Student tickets are $4, $6 for seniors, and $8 for adults and can be purchased online at ferris.edu/arts/tickets.htm or at the Williams Auditorium ticket box office from 11 a.m. to 4 p.m. until Nov. 5 and one hour before show times.
If you are interested in being in an upcoming production at Ferris or would like additional information, contact LaPietra at ext. 2108. n