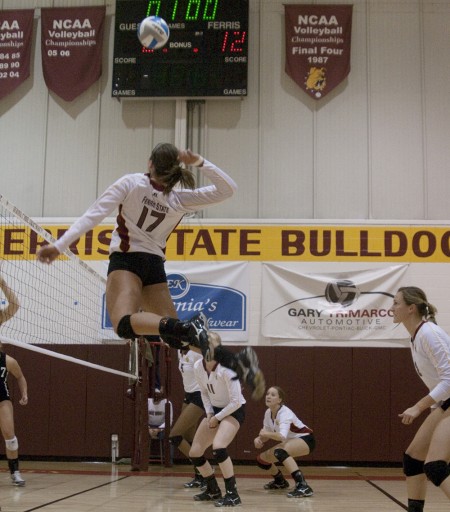 The Bulldogs would take full advantage of their home court this past weekend and came out on top, winning both matches to give the Bulldogs a three-match winning streak.
On Friday, the Bulldogs faced the Tiffin Dragons in a close match. The Bulldogs went into the third set down 2-0, only to come back to defeat the Dragons 3-2. Senior Arielle Goodson had 19 kills, junior Ashley Huntey had 18 kills and 10 digs, and sophomore Anne Sutton had 11 kills and four blocks. Senior Danielle Hamilton had 10 kills and one solo block. Sophomore Samantha Fordyce contributed with an astounding 58 assists, nine digs, and three kills. The Bulldogs improved dramatically from the beginning of the match with a .098 percentage to end with a .438.
The Bulldogs won the match in five sets, 21-25, 23-25, 25-16, 25-15, and 15-13.
On Halloween, the Bulldogs played Ohio Dominican and shut them out in three matches, 28-26, 25-13, and 25-20. Ferris outhit the Panthers in the first set .152 to .093. In the second set, the Bulldogs held the Panthers off once again and kept their attack percentage to .000. Goodson had a team-high 14 kills, with six being in the third set. Meanwhile, Fordyce once again had double-digit assists with 39 total. Freshman Kara Hess produced a kill to end the match for the Bulldogs.
"We had a focus of having a really strong offense so that combined with good defense and a lot of communication helped us win," said sophomore Aly Brecht.
The Bulldogs increased their overall record to 14-9, and 10-6 in the GLIAC conference. They will have three home matches this week, starting on Wednesday against Saginaw Valley State. n