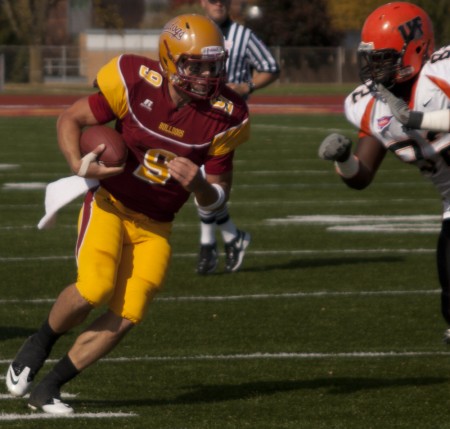 After getting throttled by Grand Valley State the previous week, the Bulldogs were decimated by turnovers as they came up short against GLIAC foe Indianapolis on Saturday.
With a 33-20 lead going into the fourth quarter, the Bulldogs allowed 13 unanswered points in the final quarter to give the Greyhounds a 37-33 victory.
While the Bulldogs piled up 400 yards of offense and 24 first downs on the night, they also fumbled seven times and lost five of those fumbles.
"You can't survive a football game when those kinds of things happen," said head coach Jeff Pierce. "I give them credit for continuing to fight back, but this is a game we should have won."
Junior quarterback Tom Schneider completed 24 of 31 passes for 207 yards while also tacking on a one-yard touchdown run. Sophomore running back Skyler Stoker piled up 88 yards and a touchdown on the day while junior receiver Mike Ryan paced the receivers with a game-high 11 receptions for 93 yards.
While the Bulldogs allowed 487 yards on defense, including giving up 329 through the air, junior defensive back William Miles intercepted three passes with one pick being a 70-yard interception return for a touchdown. The three interceptions tied the school record for interceptions in a game, which last happened when DeRen Ellis intercepted Wayne State three times in 2000.
Senior linebacker Matt Ryan registered a game-high 16 tackles for the Bulldog defense.
With the loss, the Bulldogs are now on a three-game losing streak after previously being on a five-game winning streak.
The team will face off against Michigan Tech in the home finale on Nov. 6 at 2 p.m. Michigan Tech is coming off a 20-17 upset over nationally-top ranked GVSU this past weekend and is currently tied for second in the GLIAC. Ferris is currently sixth in the GLIAC with a 5-4 record overall and a 5-3 record in conference play. n