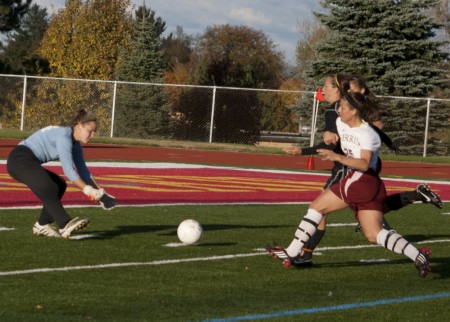 The Bulldogs concluded their regular season Saturday, falling to the nationally ranked Grand Valley State University Lakers, 6-0.
The Bulldogs faced a tough challenge playing GVSU in its own territory as the Lakers have not let any team score on them at home during the entire season. GVSU was also ranked 9th in the NCAA Division II Women's Soccer Midwest Region.
GVSU immediately took the lead in the first half scoring the first goal of the game a little over two minutes in. The Lakers would score two more goals in the first half to end the first period 3-0, leaving the Bulldogs trailing going into the second half.
Well into the second half, the Bulldogs remained scoreless and the Lakers scored three more goals to run up the score to 6-0 to put the game out of reach and seal the loss for the Bulldogs. Sophomore Cassie Aro, freshman Amanda Foster and seniors Kristen March and Megan Stec all had shots on the goal with all being blocked by GVSU goalkeeper, Chelsea Parise.
"Grand Valley was rough, but we stuck together as a team," said freshman Laurel Rapson. "Now we just have the GLIAC tournament to focus on and win the GLIAC title." n
The Bulldogs ended their regular season 7-8-3 overall and 7-6-2 in the GLIAC standings. They will prepare for the first round of the GLIAC tournament that began on Tuesday. Coverage for the GLIAC tournament will be in next week's issue of The Torch.