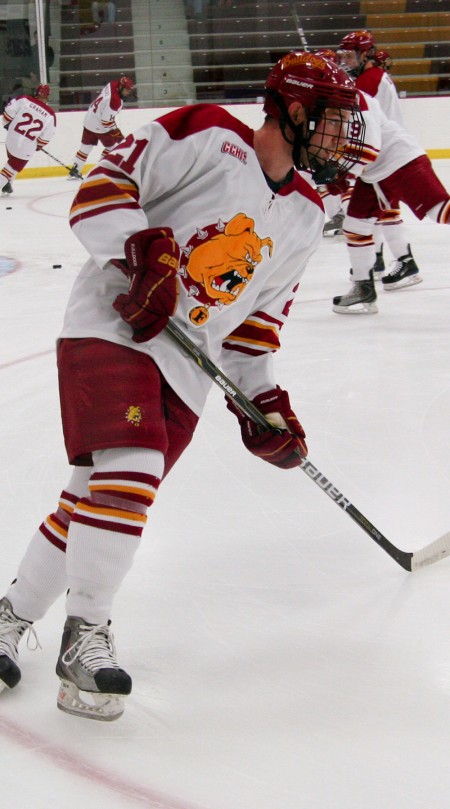 From scoring just two goals in his entire Ferris career to scoring four goals in the first eight games of the season, senior Nate Hennig has turned into an offensive threat for the Bulldogs this season.
Hennig, a Macomb native and construction management major, has gained the attention of fans and his head coach as he has gotten off to a torrid start on the offensive end this season.
"Nate really put in some work in the offseason in regards to his conditioning and training and I think that you can see that with the start that he's gotten off to this year," said head coach Bob Daniels.
While Nate, whose younger brother Dominic is a play-by-play radio announcer for Ferris State hockey, is getting attention for his play as of late, his current success can be traced back to his neighbors when he was young.
"I was about six-years-old when I started and I began with skating lessons and moved on to hockey lessons," said Hennig. "My neighbor used to babysit me and he played hockey and I watched him play occasionally when I was growing up and between that and playing street hockey with the neighborhood kids, I really started to focus on hockey at a young age."
While Hennig honed his game throughout his youth, it wasn't until the age of 14 that Hennig really started to think that he'd have a chance to make hockey a full-time gig. Hennig played for the Honeybaked (Detroit) Midget AAA Team through 2003-05. Hennig scored 56 goals in his time on the team.
"We gained a lot of attention on that team and that's when I really started to believe that I could take my game to the college level at some point," said Hennig.
After a two-season stint with the North American Hockey League's Santa Fe (N.M.) Roadrunners after his time with Honeybaked, Hennig took an offer from Ferris State in 2007 despite knowing he should have played more at the junior level.
"Looking back, I think I jumped the gun a little bit coming to college with three years of eligibility left in juniors, but I wanted to play in the CCHA and when Ferris gave me an offer, I jumped on it," said Hennig.
As he tallied only two goals in his first three years at Ferris, Hennig admitted that his first few years at Ferris were somewhat frustrating after the success he had in high school and at the junior level. But with the hot start he's gotten off to this year, Hennig has enjoyed the season so far, but says there is only one way his senior season can go down as a success.
"If we can top last year's 25-win season, it would be great," said Hennig. "And if I'm part of the reason why we do better than we did last year, that would be even better for me personally." n