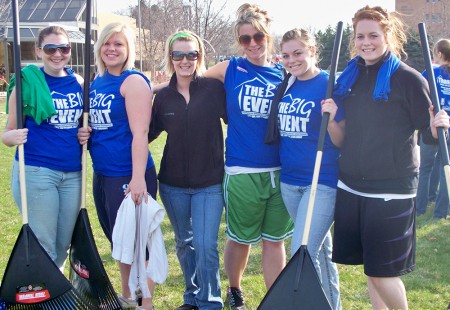 FSU's Student Government is striving to improve student participation through various programs.
Recently, Student Government has increased its size to 41 members and has six new students in the process of becoming members. Almost every college on campus has senator representation within the organization.
Student Government President Morgan Toms said the organization is strengthening its ties with RSOs, residence halls and the Big Rapids community.
Toms acknowledged that most students do not know much about Student Government.
"We must reach students so that they know what we're doing on campus," said Toms.
According to Toms, it was for this reason she decided to create a Public Relations Committee. She named Heather Schonmeier, the director of PR, as the chair. Schonmeier said that having an actual committee helps her in many ways.
"I'm not a graphic design person, so having people on the committee who can do that helps," said Schonmeier. "I don't have to do it all myself."
Toms said members have also been trying to do more personal recruiting by informing students about the RSO through word of mouth.
"We were asking [students], 'What do you want to see done on campus? How can we make things better?'" said Student Government Vice President Danielle Balmer.
Vice President of Student Affairs Dan Burcham said participation in Student Government has improved.
"I am very impressed with the leadership in Student Government and the very strong concern that exists in Student Government for all students," Burcham said.
In addition to the many events they co-sponsor, Student Government has two big projects they put on each year: the Holiday Food Drive and the Big Event.
This year, Student Government is already starting to plan for the Big Event, a large community project that takes place in April. Its goal is to have 3,000 students participate, which would more than double last year's number.
"Any organization that can get 1,300 students … to go out and fix up, paint and repair the community is a powerful and active organization," said Burcham. n