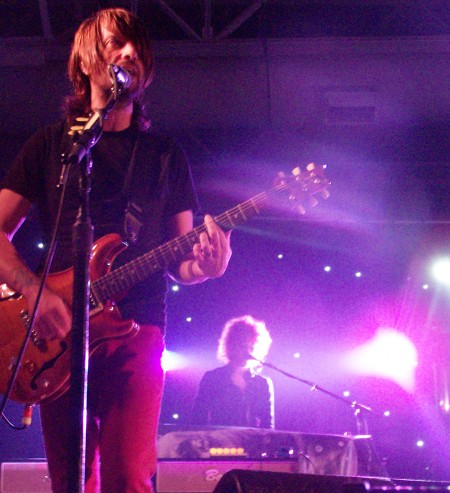 Autumn aLive 2010 brings country artist Joe Nichols to Ferris State University as the headliner for this year's performance.
Ginell Narvaiz, 2010 Music Industry Management Association (MIMA) booking agent, explained the amount of work that goes into putting on a show as large as Autumn aLive. The show takes almost a full year to plan, including time spent during the summer.
"We have to start planning pretty much immediately after the event is over," said Narvaiz. "We work all summer to research artists and dates and make sure this is no conflict with other events going on around campus."
Narvaiz said that MIMA begins working a proposal that goes to the finance division of student government in January. Once the proposal is approved by the finance division and the rest of student government and funds are allocated to the group then they contact a booking agent.
Narvaiz contacted the agent and gave him the dates the organization wanted for the event and the budget and he came back with a list of names that fit the criteria. A list was then compiled and sent out to MIMA members who in turn gave their thoughts on who should be selected.
"Joe Nichols was chosen because he would go over well in Big Rapids and has a cross-over song, 'Tequila Makes Your Clothes Fall Off,'" said Narvaiz. "We submitted an offer to him to come play and he accepted."
Students often wonder why certain artists are chosen for the event. Narvaiz said that MIMA flips back and forth between the pop rock and country genres every year when they select the artist. They stick to these two genres because Ferris Fest and January Jams usually cover hard rock and rap.
"I hope that students will enjoy the concert," said Narvaiz. "It's really what they want to get from it. We provide them with an opportunity to partake in entertainment and if they decide to participate then they'll have a good time and the artist will have a good time and it will be a great experience."
The show is being put on after a year's worth of work from MIMA. Doors for the concert will open at 6 p.m. and the show will begin at 7 p.m. on Nov. 11 in the Wink Arena. Tickets for FSU students with a valid ID are $10 and general admission tickets are $20.
Tickets are available for purchase at the Wink Arena Box Office. The Rankin Center Student Information Desk, and online at star tickets.com. For more information contact ginellnarvaiz@nullgmail.com. n